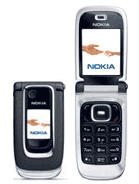 ?
Not happy with the battery life and also when in lock mode, the camera button on the side is still active. This has become one of my biggest disappointments as the camera button is constantly being accidently pushed.
?
Pros: display, O/S, push to open, keypad
Cons: tinny call quality, too easy to push the side camera button by accident, very basic alarm clock
c
my lit bro used to own this fone but for sum reasons i took out tuh memory card and when i put the card back the memory was gone and i cud nolonger store songs in it so decided to trade in now he bought a nokia 5300
?
i wanted to get a nokia 6131 but this phone seemed to be the same except for mokia 6131 has a fm radio and 1MB more stored memory. that doesn't make much difference to me so i thought about this phone cause it is like the same thing.anyway what do you recommend 6131 or this one (6126)??? please reply
J
I've had this phone for about a month and a half now. As long as you're expecting an average battery life, this phone is awesome. The screen is plenty big, the call quality is good, and it's really light. Great buy!
?
nothing bad about this phone. nothing good either.

the price is right, so why not. but if you've got more cash try going for something with more features, a longer call log and more battery life.
c
I love Nokia's but havne't cared much for flip phones. i bought this phone with the best of intentions but the battery life, and poor reception made it a quick return!
?
I have had this phone since june 07, I have returned it twice to AT&T and they have replaced it, but all three phones have the same problem, the speaker volume keeps cutting out, now I am looking for a new phone, stay away from this one
?
this phone seems decent but no posts leads me to believe no interest...hmmm and I want one...it's either this phone or SE w300... and opinions on that!
Total of 51 user reviews and opinions for Nokia 6126.