On the road again
Nokia 6210 Navigator review: On the road again

In-phone GPS is no longer the next big thing in the industry. All right, it may not be run-of-the-mill just yet but it's where it's heading. The point now is how many extras will top the GPS and give users a bigger and better treat. Well, the new Nokia 6210 Navigator even tries not to make it a Dutch treat with a 6-month navigation license prebundled. On top of that, there's A-GPS, Nokia Maps 2.0 and a digital compass for pedestrian guidance.
GPS aside, Nokia 6210 Navigator is running on the latest Symbian OS 9.3 with S60 3rd and FP2, and packs a good 3.2 MP autofocus camera, accelerometer, stereo FM radio and a 2.4" QVGA display. Smartphone expertise and GPS go hand in hand with superb communication skills: quad-band GSM/GPRS/EDGE and HSDPA support.
The next generation Nokia Navigator sounds as a nice upgrade, but it's still a few trial laps away from becoming a recommended upgrade. Hop on and buckle up.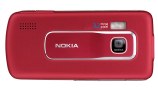 Nokia 6210 Navigator official photos
Key features:
Built-in GPS with A-GPS, compass, 6-month navigation license and Nokia Maps 2.0

Quad-band GSM/GPRS/EDGE

Dual-band HSDPA 3.6 Mbps, localized versions

2.4" 16M-color QVGA display (larger than the one of Nokia 6110 Navigator)

Symbian OS 9.3, Series 60 3rd UI with FP2

3 MP autofocus camera with flash, secondary videocall camera

Bluetooth v2.0 with A2DP, USB v2.0

Accelerometer for screen auto rotation, call silencing and alarm snoozing

Stereo FM radio with RDS

microSD card slot, up to 8GB, hotswap (1GB card included)

120 MB user memory, 64 MB SDRAM, ARM 11 369 MHz processor

Fast and responsive user interface
Main disadvantages:
Display still not big enough for comfortable in-car navigation

Digital compass plays up and works only when not navigating

Top row of alphanumeric keys crammed under the slider

No Wi-Fi

Camera has no lens cover

Very awkward battery cover latch

No geo-tagging for camera images





Nokia 6210 Navigator at our office
Nokia 6210 Navigator is a direct successor of Nokia 6110 Navigator, which got us pretty impressed back in the day. The new 6210 doesn't appear to be a great step forward. For one, navigation is entrusted to Nokia Maps 2.0 instead of the superb Route 66 we had the pleasure of in the original Navigator. Nokia Maps 2.0 is quite alright, but is definitely not our first choice here, mostly in terms of interface. The cheapo plastic under the display is another thing, but don't get us started on that.
On a positive note, the accelerometer for auto rotation and the compass are a boost to usability in Nokia 6210 Navigator. Plus, the full-fledged smartphone boasts the latest user interface version: Symbian S60 3rd with Feature Pack 2.
Yes, we know that the Nokia 6210 Navigator is not a high-end all-in-one multimedia device but it still puts up a good fight, so you are welcome to join us as we explore it right after this small jump.
?
It took you 10 minutes? Did you even try pressing it? lol But i agree with the rest, i've had mine for 8 months and it has never worked properly. First the battery, then it just started blocking all the time. I took it to nokia 4 times, for them to...
L
Have you managed to get Rout66 working on your 6210? I had the 6110 before (gps software 10/10) and am extremely disappointed with the 6210 gps software(1/10)
B
comment1, http://airsoftgunhelp.com/airsoft/member.php?u=23525&buy_hgh - Buy Hgh, 8982, Buy Hgh, okig, http://www.weblo.com/member/ProVestra/ - Provestra, ujubf, Provestra, xspnxs, http://www.theenvironmentsite.org/forum/members/sleepingbeauty.html -...