Sharp-witted shooter
Nokia 6220 classic review: Sharp-witted shooter

Display
One thing you can count on to restore some faith in Nokia is a good display. The 6220 classic is no exception and with it you can enjoy both great picture quality and sunlight legibility. We are more than pleased with the contrast and brightness of the display and the ambient light sensor is a nice feature to have too.



The display is great as far as image quality is concerned
What we aren't too excited about is the 2.2" diagonal. In smartphone terms it's just a bit short especially when you are using it for GPS guided navigation.
Keypad: as cheap as it gets
Now, this is one of the two greatest disappointments with Nokia 6220 classic (along with the lack of WLAN). The keypad looks mighty cheap both in terms of materials and construction.
The whole keypad is highly susceptible to fingerprints and the keys are so wobbly typing becomes a chore. The Menu and C keys are rather small and not too easy to press and so are the direction keys on the D-pad.
The alphanumeric keys are large enough but tactility is inadequate, so typos aren't completely ruled out.
The blue backlighting is somewhat patchy, notably weaker near the edges. All in all, there is little good to say about the keypad and its looks.



Backlighting could have been improved
Telephony: no worries
With Nokia 6220 classic you'll have no reasons to fear reception issues. The phone offers brilliant speaker quality and sound during calls is remarkably clear. Vibration is decent too, though we've seen better.
Check out the 6220 classic readings in our loudspeaker test. Look up the table on how it stacks against some other handsets we've measured. To find out more about the test itself or a complete list of tested devices, click here.
| | | | | |
| --- | --- | --- | --- | --- |
| Speakerphone test | Voice, dB | Pink noise/ Music, dB | Ringing phone, dB | Overal score |
| Nokia N82 | 70.2 | 61.2 | 65.9 | Below average |
| Nokia 6220 classic | 70.7 | 65.8 | 69.8 | Average |
| Samsung G800 | 69.7 | 66.3 | 71.1 | Good |
| Samsung S7330 | 75.1 | 68.7 | 75.7 | Very good |
| Sony Ericsson C702 | 75.8 | 75.7 | 82.7 | Excellent |
S60 UI gets more elaborate than ever
Nokia 6220 classic runs on the Symbian 9.3 OS with Series60 3rd Edition user interface. Feature Pack 2 comes preinstalled to usher in some nice novelties. In fact, Nokia 6220 classic is the handset with the most visual enhancements among all the FP2 phones we have tested. Transition effects are all over the UI and most of them are quite appealing.
As usual, the active standby screen is the most convenient way of bringing shortcuts to all your favorite applications onto your home screen. You can even assign shortcuts to websites of your choice for quicker access. The two soft keys functions can also be varied according to the user preferences. The standby toolbar can be organized in vertical tabs with the D-pad used for scrolling. Other than that its functionality isn't greatly modified.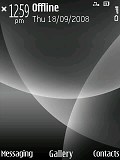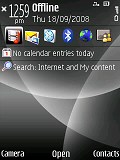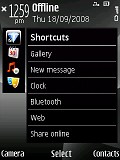 The three different stand-by modes: off, horizontal and vertical
The task manager has also received visual enhancements and is now appearing on every pop-up menu. It is actually placed on top of every list, which may seem somewhat irritating. In addition, you can still use the well-known shortcut by pressing and holding the menu key.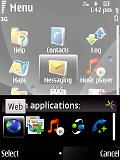 The task manager now looks even better
The 369 MHz CPU and the 128MB of RAM are quite important for the performance of the OS. In Symbian terms those are decent numbers, promising a performance free of lags and Memory Full warnings. Navigating the menus is fast with instant response to user commands.
The Nokia 6220 classic built-in memory is 108MB, which is adequate. The included 1GB microSD memory card comes in very handy, providing reasonable storage out of the box. You can go way above that too. Nokia 6220 classic had no problem handling an 8GB microSD memory card, and even when the card filled-up, it didn't noticeably slow down the phone.
As with any Symbian phone, Nokia 6220 classic has a built-in voice recognition system. It's doing a good job, being fully speaker-independent and recognizing a high percentage of the user commands. There is also an automated message reader which will read out all your new messages upon a press and hold of the left selection key on the standby screen.