Sharp-witted shooter
Nokia 6220 classic review: Sharp-witted shooter

Camera in focus
Nokia 6220 classic is equipped with a 5 megapixel camera with a maximum image resolution of 2592o~1944 pixels. It also flaunts auto-focus, active lens cover, Xenon flash and dedicated AF assist light. The only hardware flaw is the location of the flash - it is below the camera lens, resulting in weird dark outlines in most of the portraits.
The camera UI uses the sidebar layout we have come to know since Nokia N95. Only this time it is improved, allowing you to choose which settings get displayed on the toolbar. Some of the available options include manual white balance and ISO sensitivity, as well as exposure compensation, sharpness and contrast settings. Various effects are also at hand, labeled color tones.
Gridline can be applied to the viewfinder to assist you in framing you photos, using the photographic rule-of-thirds. Using it to align your subjects and place points of interest on or near the lines and their intersecting points makes your photos more professional and aesthetic.
Another hip camera feature is the geotagging capability, which by the way works with videos too.
The picture quality the Nokia 6220 classic pulls off is quite good. The colors are really precise most of the time. There is also more than enough detail and even foliage seems to come out well with this camera. Sharpness levels are also very good with no traces of excessive sharpening. The noise is generally in control, but what left us wondering were the really messy skies - it looks like a combination of noise and JPG artifacts.
We've got a bunch of sample photos made with the camera of Nokia 6220 classic. Enjoy!













Nokia 6220 classic camera sample photos



The flash is doing a rather decent job even with subjects 2 meters away
DVD-like video recording
As for video recording, the 6220 classic manages the sweet VGA resolution at 30 fps. Video quality is quite pleasing and you will be sure to enjoy filming with the 6220 classic.
Videos are captured in MPEG-4 format and have automatic or manual white balance. The other available features are night mode and color effects. The only thing you have to be careful about is not to run out of memory because videos of this quality eat up your storage space much faster than you might guess - a minute of footage is worth 20MB of memory.
Here is a sample video (4.6 MB) for you to check out.
Connectivity - No WLAN is a no-go
Connectivity is among the defining skills of smartphones. With Nokia 6220 classic you can rely on every kind of network connectivity - from GPRS, through EDGE to 3G with HSDPA support - the phone has it all.
A memory card slot is also available so you might opt for a card reader as a data transfer medium. The 6220 classic also has USB and Bluetooth, both v2.0.
Sadly though, it's not all bed of roses. Wi-Fi is out and we miss it badly. We know we are talking about a relatively low-priced handset but we can't help it. Wi-Fi would be more important than, say, GPS to a large portion of potential users. And one can always use a Bluetooth-based GPS module. So essentially, WLAN seems much more important as an embedded feature.
Web browser scores a point
Browsing the internet with Nokia 6220 classic is a nice experience. Page rendering is almost perfect and even very elaborate web pages fit perfectly on the screen. The virtual mouse cursor earns the browser another point. It is easy to control and generally works great, although not as good as with Samsung INNOV8.
A mini-map can be activated to help finding your way around large sites where lots of scrolling is required. The zoom level is also easily adjustable. The browser has full support for flash and java, so you may rest assured there is no content on the internet that you cannot access.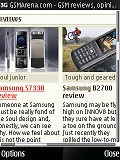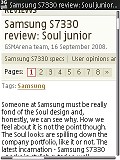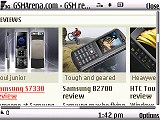 The web browser has landscape and fullscreen modes
Our only concern is once again the relatively small display, which won't allow you to comfortably use the smallest font and get a larger part of the page on screen.
Organizer is typically good
The time-management skills of Nokia smartphones are usually top-notch. The case with the 6220 classic isn't any different as the handset has quite an elaborate PIM package.
We start exploring the bunch of applications with the calendar. It has three different types of view - monthly, weekly and daily, and four types of events available for setting up - Meeting, Memo, Anniversary and To-do. Every event has its own unique fields, and some of them allow an alarm to be activated at a preset time to act as a reminder.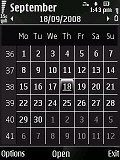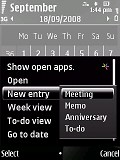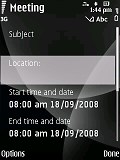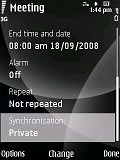 Setting up an event in the calendar
The mobile office is also very well geared, with preinstalled applications able to open Word and Excel, PowerPoint and PDF files seamlessly. Unluckily, editing documents is not supported by the included version of Quickoffice. If you would like editing enabled you will have to purchase the complete application at the Nokia Download center for a rather hefty fee. The final ingredient here is the included ZIP manager, which allows extracting archived files straight from your phone.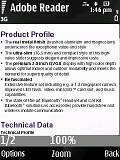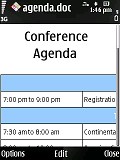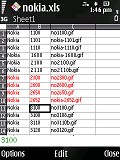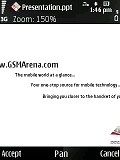 PDF, Word, Excel and Powerpoint files are easily handled by Nokia 6220 classic
Some of the other inbuilt organizing and time-management applications are a great unit converter, calculator and voice recorder, as well as the Notes application. No need to elaborate here as those are all really well known.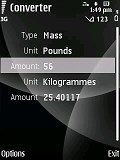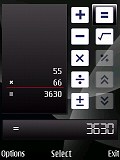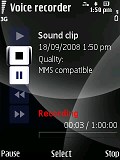 The unit converter, the calculator and the voice recorder
The alarm application allows a huge number of alarms to be set, each with its own name, trigger day and repeat pattern.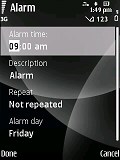 You can set up as many alarms as you want with the 6220 classic