Not that much of a browser…
Nokia 6233 has a tri-band GSM support (900MHz, 1800MHz, and 1900MHz) plus CSD, HSCSD, GPRS Class 10, EDGE Class 10 and UMTS for fast data transfers and streaming 3gpp content. It's got to be pointed out that the use of HSCSD services consumes the phone battery faster than normal voice or data calls.
The phone is equipped with a XHTML browser with WAP 2.0 support. The browser is simple, with three types of font size available. That said, we must point out that we are far from satisfied with the way it deals with general HTML sites. The best that it's capable of is just simply converting those to ones similar to WML wap sites. Most of the sites are plainly unusable with some small exceptions. Searching with Google is a true nightmare too. Furthermore, you cannot use the browser in a horizontal mode.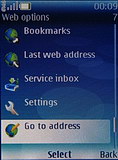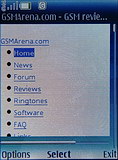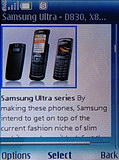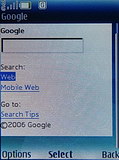 Nokia 6233 web browser: visiting GSMArena.com and Google.com
Nokia 6233 can also serve as a modem for establishing Internet connection from PC. The phone gets connected to a PC through Bluetooth, via the Infrared port, or by USB cable. Connection parameters can be configured manually, but you will save time if you use the Internet connection program from PC Suite.
A great feature is that you can now directly download updates of the phone firmware when newer versions become available. Other than that, the handset has an Infrared port and Bluetooth 2.0 connectivity for close communication with other devices. The phone supports the following Bluetooth profiles: hands-free, headset, object push profile, file transfer profile, dial-up networking profile, SIM access profile, and serial port profile.
Organize yourself!
The Nokia 6233 has a separate Organizer menu which includes applications to help you stay on schedule. The Alarm clock allows for only one alarm to be set but it can be repeated on given days of the week. Nokia 6233 will wake you up with a standard peep sound, with any sound saved in the phone, or with radio signal, provided earphones are plugged in. The snooze time of the alarm is also configurable.
The calendar application is nicely developed. The monthly view includes details like the weeks and the week days, while the Weekly view includes details like the days and the hourly schedule for those days. The week begins according to the wish of the user - on Saturday, Sunday or Monday.
The calendar offers 5 types of events: meeting, call, birth date, memo, and reminder. The last one, the reminder, is used for fast inserting something that has to be reminded of soon. It is quite useful since in other mobiles you often need to use the "meeting" option as a reminder one, which unnecessarily complicates things. The Reminder in Nokia 6233 includes the following details: subject, place, starting date and time, end date and time, reminder date and time, reminder type, repetition (never, daily, weekly, every two weeks, monthly, and annually). The phone offers synchronization of notes and calendar events with both a PC and a remote server.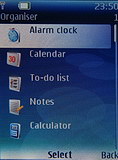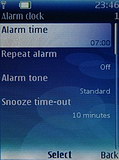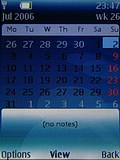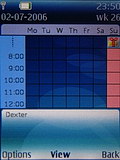 Organizer menu • alarm clock options • calendar: monthly & weekly views
The To-Do list is simple enough. Here you can only add a subject, a priority, a term, and a reminder type. Accomplished tasks can be marked off. List items can be ordered in alphabetic order or by deadline. Tasks are very easy to transfer into the calendar.
Text notes are quite handy, because they get synchronized with PC, which allows for longer texts to be downloaded into the phone. Font size is not configurable. Yet, in my opinion it is the text notes where three font size options would have been really helpful (just like in the SMS application).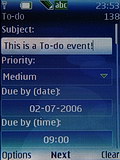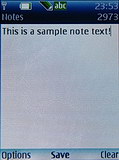 Setting up a To-do event • putting down a note
Nokia 6233 offers a voice recorder and as in all Series 40 Nokia models, the voice record duration depends on the available free memory only. The recorder cannot be used when a data call or GPRS connection is active but can freely be turned on during voice calls. It's up to your will whether the recordings will be stored onto the internal memory or onto the memory card. Nokia 6233 uses the .amr format and a one-minute recording uses approximately 100 KB of the memory. Here Nokia engineers could have designed the side button on the left side of the phone to start the voice record instead the Push to talk function or at least it should have been made user configurable.
The menu also has a countdown timer and a stopwatch. The Java applications include a unit & currency converter, a world time clock, and a calculator. The latter is quite detailed, offering not only standard mathematic operations, but also work with powers, square roots, reciprocals, functions and memory functions. Yet, the calculator ignores common operator priority. There is even a translation application which doesn't have a large vocabulary but does what it can in 7 languages.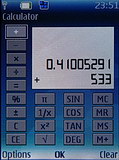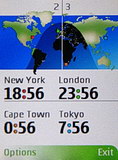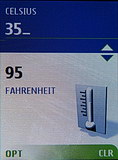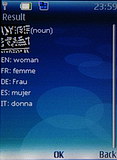 Calculator • World clock • Unit converter • Translator: searching the word "woman"
One of the things we missed is an application for viewing MS Office and Adobe Acrobat PDF files. Yet the phone allows you to read .txt files and we find that quite handy.
Game controller
Nokia 6233 supports Java 2.0. The test phone we got featured 2 pre-installed games: Sudoku and Snake III. The Snake III game is a nicely elaborated 3D variant of the legendary Snake game and features interesting graphics, but disappoints when it comes to amusement. The controls are rather complicated and you can hardly get the apple you are after since the snake doesn't turn in the right moment you want it to turn. There are two in-game views available – one where the camera follows the snake's head and another one that watches the game sideways.
The Sudoku game is in fact a .swf game and it portrays really nice the support of the phone for that platform. The game itself is rather popular, so if you are one of those who enjoy it, you would surely have some great times with it.
Final words…
Nokia 6233 impressed us from the very beginning. During the tests we were convinced that it is user-configurable in almost every possible way. The menu is organized logically; functions are detailed, offering high control comfort and brilliant work efficiency. When compared to other Series 40 phones, this one has taken care of a lot of their drawbacks. We can say for sure that it's a trustworthy successor of the famous 6230 and 6230i business phones.
The phone has a very nice design, although a bit on the conservative side, we must admit. It doesn't have the looks of a very expensive device and on the other hand it's not expected to be one. There is always a possibility to go for the cheaper Nokia 6234 which has the same functionality and is the Vodafone-branded version of this mobile. While being cheaper in price, we must say that it also has cheaper looks – but that's our personal taste of course.
Summing it up, the feature-rich package would undoubtedly turn this handset into a market hit. Just wait and see.