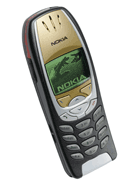 D
Man, someone really loves to use my name and mail. I guess - he is pissed off because he read what I wrote about the 8310. But after all I didn't lie about it.
-------------------------------------
Now about this "goldplated part" - as the other guy likes to call it. Nice design,some cool features but frankly I like the 6210 better.
This one is again quite overpriced - as almost all nokias . Of course there are always some exceptions.
D
My god!!! just look at that goldplated part. It's a beauty, man ... a real beauty.
J
I think we know why...it looks like some deluxe Soviet-era phone for elite party members and KGB agents but with year 2000 technologies
Total of 289 user reviews and opinions for Nokia 6310.