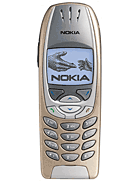 m
From what I have seen this phones is not all that. What's the big difference between this and the 6210 huh? Not much really? Who wants a blue light when you can have 256 colours? e.g. Ericsson T68. I've been a die hard Nokia fans for years, but it's time for a change people ;-)
M
I can't believe this phone is rated so low here, it's much better than any other now available.
N
hey shka, Nokia 7210 is a colored screen phone and it's tri-band world phone, I think it suits u. Nokia 6310i has been released, they sell it for $378.98 in www.expansys.com check it out! :)
m
whats the down load time for internet file
use using the 6310 through a laptop for
portable use?
Yours Mike Dillon (is it 56kp per sec)
?
Can I just remind all u sad nokia fans that every other phone manufacturer had TRI BAND phones out years ago. Why R Nokia so slow in releasing thiers, I know it is because they are shit!

N
This would be a good phone. Finaly Nokia made some nice Tri-band phones. 2 Thumbs up to Nokia!
Total of 835 user reviews and opinions for Nokia 6310i.