Nokia is certainly keeping us busy these days. Only a day has passed since the Nokia N95 8GB was approved by the FCC and now a new mobile is announced by the Finnish company. The fresh new addition to its mobile portfolio is the Nokia 6555 - a stylishly looking clamshell. The device is going to be quad-band and 3G-enabled and has an interesting design, which once again confirms that Nokia is trying to drop the conservative image. Quite a few steps in that direction were made, including the Nokia Prism collection and the Nokia Luna.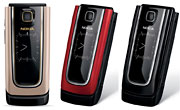 Nokia 6555 in different color variants
In terms of features Nokia 6555 comes with a 16M color internal TFT display with a QVGA (320 x 240 pixels) resolution. The clamshell also has an eye-pleasing external analog timepiece display. The user memory is 30MB and is expandable through the in-built microSD card slot. Data transfers rely on Bluetooth as well as the already mentioned 3G capabilities. The camera (with yet unknown megapixel count) features some handy features such as fullscreen portrait viewfinder.
The handset is planned to hit the shelves within next month at an estimated retail price of 200 EUR in at least four different color combos.
Z
Yep, Motorola has the RAZR and razr minions (rizr, rokr, slvr) and... umm..... what else did they have again?
j
pogoh considering motorola have sold over 100,000,000 razor series handsets world wide iether there are alot of stupid people out there or the phones their phones are brilliant i dont think the people are wrong somehow maybe youmshould get of you're ...
P
In my opinion motorola's are the worst phones made, simply due to the shoddy badly thought out UI that the other manufacturers had back in 2001. To alot of people their phone is a fashion statement and will use a slim razr just to keep up with peers ...
ADVERTISEMENTS