I slide, you slide
Nokia 6600i slide review: I slide, you slide

Connectivity offers videocalling, but not HSDPA
The connectivity set on the Nokia 6600i slide is bottom of the mid-end - sure, it's 3G capable but don't expect blazing speeds, as there's not HSDPA support. Video-calls are enabled though with a dedicated front-facing camera. There's quad-band GPRS and EDGE support.
Bluetooth version 2.0 with A2DP is also supported and that's that for the wireless connectivity. For wired connectivity, you get the typical microUSB port, which can be used to charge the phone too despite the presence of the good ol' Nokia charger plug.
Finally, the memory card slot, which can sometimes be the most convenient way of transferring data, is also present here, however it's under the battery, which makes swapping it quite a hassle.
Things went very wrong with the browser
Where did they go wrong? For starters, it's not the WebKit-based browser that we saw on the 6700 classic and liked very much. This is because the 6600i slide uses the S40 5th edition, rather than the 6th edition of the 6700 classic.
Whatever the reason, the browser's performance is inexcusable for a new handset - page rendering is way off the mark, there's no virtual mouse cursor or mini-map, making page navigation quite a challenge.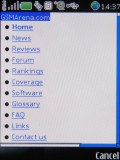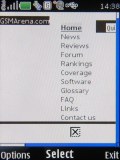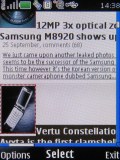 The awful built-in web browser
It's the behavior of the browser that annoyed us the most though - it stops loading a page and renders it very badly, but then you discover that it is in fact still loading, it's just the progress bar that has disappeared. When it does finish loading some of the rendering bugs disappear. Some. And don't even bother asking for full Flash support, S40 just doesn't have it, regardless of which edition it is.
For some odd reason Opera Mini doesn't come preinstalled. We've gone over and over how good Mini is but here's the gist - it renders pages properly and cuts the data transferred to a third, both speeding things along (with no HSPDA, 6600i needs it) and cutting down on data charges.
So, one of the first things to do if you buy 6600i slide is to download Opera Mini. For now, version 4.2 is the one to choose, but most definitely have a look at version 5 beta as well - it's shaping up as a great browser.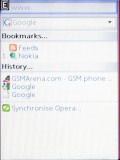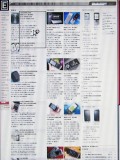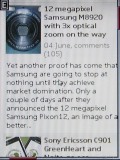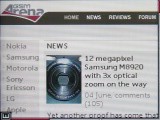 The well known Opera Mini web browser
Organizer is great as usual
The organizer of the Nokia 6600i slide is very elaborate, offering a large number of time management applications with nice features and a user-friendly interface. The calendar offers month, week, and day modes and five types of events can be set up.
The week can start on Monday, Sunday, or Saturday. The event types are: reminder, meeting, call, birthday and memo. Furthermore, each type of event has its own specific fields and some of them even allow an alarm to be set up as a reminder.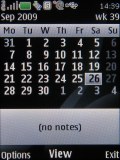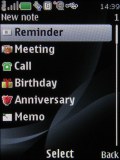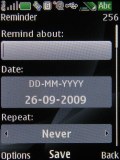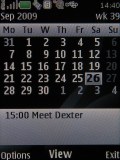 Calendar month a week view modes • setting up an event
Next-in-line is the handy To-Do manager that enables you to organize tasks in three priority levels. Tasks can be assigned alerts, as well as marked off once accomplished. Those can also be easily synchronized with the calendar application.
The alarm clock is repeatable: it can be set to go off on any selected days of the week, even when the phone is switched off. You can also customize the snooze time if you wish. The other organizing functions available include a voice recorder with a 60-minute limit, a stopwatch and a countdown timer.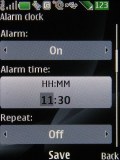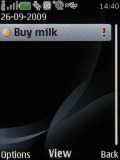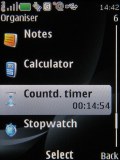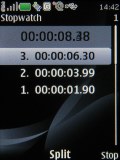 The alarm is nice but has only a single slot • To-do list • Countdown timer and stopwatch are available
Text notes are available as well - their length is limited to 3000 characters. Finally, the Nokia 6600i slide calculator offers two versions - basic and advanced. In addition a loan calculator is also available.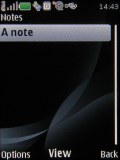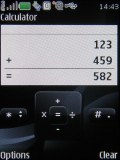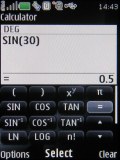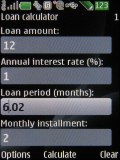 Text notes on board • The calculator has a simple and a scientific version, along with a loan calculator
A few basic applications
The consistently useful unit converter is first in the list of additional applications. It offers all kinds of converting options and, if provided with enough information about the rates, offers currency conversion too.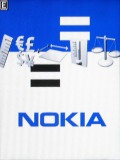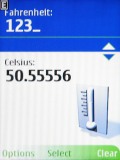 The unit converter is really nice
The Search application offers Yahoo Search out of the box, though other search engines might be available depending on your country and region (e.g. the UK gets Live Search too). Searching is web-based only, no option for local.
The final featured application is World clock for checking the time in any time zone at the cost of only a few clicks.