I slide, you slide
Nokia 6600i slide review: I slide, you slide

Ovi Share and Contacts
We'll have a look at Maps in the next chapter, but let's check out Ovi Share and Ovi contacts first.
Ovi Share allows you to share images, video and audio files. Such services have become very popular and Ovi Share is Nokia's way of getting its foot in the door. It's free and you have access to unlimited storage. After a quick sign-up process, selecting files for uploading is easy.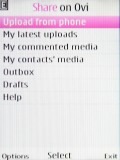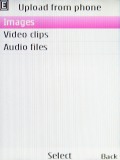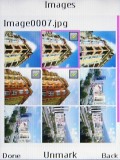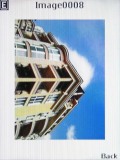 Main menu • uploading a file • viewing an uploaded file
This app is somewhat limited though in that you can only browse yours and your friends' uploads. For general browsing you'd need a web browser (the built-in one works well enough for once). Bear in mind that 5 megapixel photos can cost you quite a lot at the end of the month if you're not on an unlimited data plan.
Ovi Contacts goes about giving you access to another of the Internet's most time-consuming services - instant messaging. Ovi contacts integrates tightly with the phonebook as a new tab and offers an IM client with a twist. You can search for people already registered with Ovi or send an invitation to anybody using Gmail since the Ovi contacts supports G-Talk, Google's own IM, as well.
Thanks to this service you will be able to chat in real time with all your Ovi/Google Talk-connected contacts, change your status messages and mood, and all that kind of social networking stuff.
In addition you can share the name and the artist of the track you are currently listening to.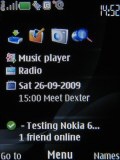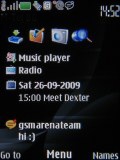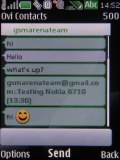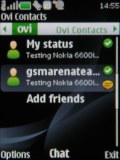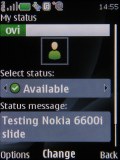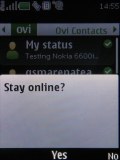 Ovi Contacts is a very capable IM client
All this is fine and dandy but here's the stumbling block - S40 doesn't have multitasking. And since Ovi Contacts is a Java app rather than a native one, you can give up any hopes of switching between it and the rest of the interface.
Nokia have rigged a way around this - you have the option to remain online when you quit the app and new messages show up as notifications on the screen. Choosing to reply starts the Contacts app.
The homescreen has a pleasant surprise - you can put Contacts on the homescreen, which shows the number of friends online and even a message when you receive one, complete with sound notifications for a contact coming online or receiving.
We say Nokia "rigged" the solution because it's far from perfect - if you receive a longer message you can only see part of it on the screen, reading the entire message requires launching the app. It's just a click away but it takes a few seconds for Contacts to load. If you want to delete a friend from the Contacts tab in the phonebook, the application will start itself, ask your confirmation and then close again. And all this going back and forth is just to get around the lack of multitasking.
Maps for S40 can plan routes, need external GPS receiver
By now you're aware that the 6600i slide doesn't have built-in GPS, but Maps can work without one - you can browse the maps, look up addresses, plan routes, but you'll have to do without voice guided navigation. Furthermore it won't give you your general location using Cell-ID like Google Maps does.
With the Map Loader application for PC you can download map data to a compatible computer, and transfer it to your device to save on potential wireless data charges.
Maps offer straightforward route planning. Having entered a start point and a destination, the application will plan your route with easy-to-follow directions to where you're heading.
If you pair the phone with a Bluetooth GPS unit, it turns into a full-fledged navigation decice. Furthermore, turn-by-turn visual and voice guidance are available upon purchasing a navigation license.
Saving locations in the Favorites section is another available option. The contents of Favorites can have different icons and can also be exported/sent via MMS, which is a nice extra.
Maps also work with the phonebook, so if you have the address of a contact stored in the phonebook you can quickly plan a route to that contact's home or office.
Good pastime package
There are four games preinstalled and they are diverse enough to help most people kill a bit of time.
First up is Bounce tales - a fun, cartoony platformer that follows the adventures of a blob.
Brain champ is a collection of simple puzzles - a variant of Simon Says, simple math questions (2 + 4 = ?). The puzzles may be simple but since you're running against the clock, things can still get pretty competitive.
Seasweeper is a variation on Minesweeper, with submerged rocks instead of mines, that uses a square and a hexagonal grid. It includes an arcade mode, in which you pick up bonuses and earn cash as you guide a fleet of ships through treacherous waters.
An all time classic is here too - Snake, version 3. It offers classic mode or adventure mode, which puts a slightly different twist to the game. There's even multiplayer mode over Bluetooth.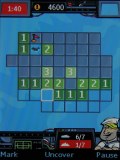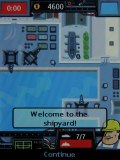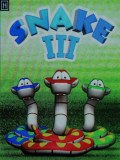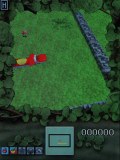 Seasweeper sweeps rocks, not mines • Sssssnake
Final words
So, here we are - the Nokia 6600i slide is a compact, well built and sturdy phone. And a beautiful one, we're keen to add. The spec sheet gives the impression of an excellent feature phone too - 3G and videocalling, 5 megapixel camera, Nokia Maps and so on.
However, make sure to read the fine print - 3G, but no HSDPA, and the built-in browser is no good. The 5MP camera will produce satisfactory shots in perfect conditions but is far from top-of-the-line - we don't really know why they even bothered upgrade. Even the lack of 3.5mm audio jack and the not-so-good prebundled headset will push some users away.
If you're among the people that don't really care about those things, and only use the phone for calling and texting, you'll probably be alright (but note the ringing volume is on the low side).
The 6600i slide is still a good package, if you're ready to put up with its limitations. Some of them are not that hard to work around - installing Opera Mini takes a minute.
Looking at the alternatives the first thing to pop up is the Nokia 6700 classic. Its design and build are towel on par (if not superior) and it addresses a lot of the things that we didn't like in the 6600i. As with almost anything however, good things come at a price.
The Samsung U900 Soul is a golden oldie so to speak. It's not too old mind you, even in gadget years. It's got the looks, it's got the camera, and it's even got the 7.2Mbps HSDPA data speeds. And since it's been around for a while it's quite easy on the pocket. The Samsung S7350 Ultra s is newer (and more expensive) but throws in GPS, D1 video recording and DivX support into the mix, not to mention the larger screen.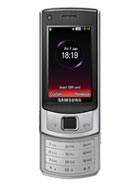 Samsung U900 Soul • Samsung S7350 Ultra s
The predecessor - the Nokia 6600 slide - is also worth a look. It doesn't have a 5MP camera or support for 16GB microSD cards but that's about it. It's not that much cheaper, but not for long - now that the update has hit the stores. Just be warned of it's below average ringer volume.
While still on the matter, make sure to check out the Nokia 6260 slide too. Definitely not as pretty, but GPS and Wi-Fi might be worth the extra cash (HSDPA, HSUPA and Carl Zeiss optics sound nice too).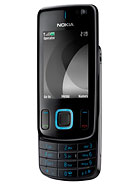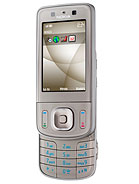 Nokia 6600 slide • Nokia 6260 slide
The Nokia 6600i slide is a cute little set and a decent midrange package. It obviously isn't a cameraphone, or a business tool. But then again, the likely shoppers of this handset will probably value aesthetics and not demand cutting edge technology. So, power users can safely move along, but everyone else is welcome to give the 6600i slide a shot.