Games - from puzzles to shooters
There are five games preinstalled and they range from quick and simple to some slightly more serious. They should be enough to kill a few dull minutes.
First up is Bounce tales - a fun, cartoony platformer that follows the adventures of a blob.
Brain champ is a collection of simple puzzles - a variant of Simon Says, simple math questions (such as 2 + 4 = ?). The puzzles may be simple but since you're running against the clock, things can still get pretty competitive.
Seasweeper is a variation on Minesweeper, with submerged rocks taking the place of the mines and switches between a square and a hexagonal grid. It includes an arcade mode, in which you pick up bonuses and earn cash as you guide a fleet of ships through treacherous waters.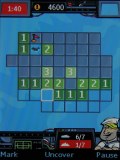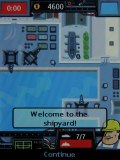 Seasweeper sweeps rocks, not mines
An all time classic is here - Snake, version 3. It offers classic mode or adventure mode, which puts a slightly different twist on the game. There's even multiplayer mode over Bluetooth.
A more serious game is Tomb Raider: Underworld. It's a platformer but you have to solve puzzles along the way as well.
Final words
At the end of this review it's less what we think and more how we feel about the Nokia 6700 classic. The honest truth is we fell in love with the phone the moment we opened the box. Mature and poised, business-like and trendy, the real classic styling seems to give the handset a very wide appeal.
In this train of thoughts the Nokia 6700 classic stands as a much more affordable (but equally stylish) version of the Nokia 8800 Sirocco. Amazingly thin it truly is, but you'd never guess that holding it in your hand. For such a compact device, the phone does have a nice heft to it. Add the top notch feel of metal in your hand and you get the sense of a very reliable and stylish gadget.
As for specs - they are excellent for a feature phone. The handset can cater to a younger audience with its IM features provided by Ovi Contacts, and to a more diverse crowd with its trouble-free handling of email and navigation.
Lack of Wi-Fi hurts a bit, but what really limits its usability is the lack of a document viewer. Without it, the excellent handling of email is not much of a benefit in a business environment. The phone has the looks to come out of any pocket and keep its head up, but it's unlikely to compete with other feature phones that offer basic document viewing.
On the other hand, laptop tethering doesn't involve special software (other than the Nokia PC Suite) or additional carrier fees besides the data charges. We're not sure if this is going to be a commonly used feature but you can set it up in almost no time, so it's worth keeping in mind.
Let's now have a brief look at the Nokia 6700 classic alternatives. First up is the obvious, cheaper option - the Nokia 6303 classic. It omits the fastest data transfers, has a lower-res camera, and Ovi Maps comes bare without built-in GPS. What you'd miss the most is the looks however - the 6303 is simply no match in that department.
The Samsung S7220 Ultra b matches most of the key features of the 6700. It offers a document viewer, but lacks the navigation software - it relies on Google Maps instead. With a distinct and bold styling, the Samsung bar sure looks a worthy rival.
Another Samsung handset, often mentioned in the context of fashionable candybars, is the Samsung M7500 Emporio Armani. We won't fuss over the differences in specs - what matters here is the looks - and the Armani is supposed to bring it in spades. So, keep bringing it, says the Nokia 6700 classic.
All in all, the Nokia 6700 classic is poised to be a strong seller - especially among the crowd that likes to simply walk into a store and pick a phone. The handset is truly hard to resist in person and photos rarely do it justice, let alone make the similar kind of impact. So, the Nokia 6700 classic is designed to appeal to your senses and marketed to appeal to your common sense. You've been warned.