Symbian user interface
The Nokia 6700 slide, unlike its classic sibling, runs Symbian 9.3 OS with S60 3rd edition user interface with Feature Pack 2.
On the homescreen there's the Contact bar, which we first saw in the Nokia 5630. It's an row of select contacts that add to the usual shortcuts and panels of the Symbian S60 Active standby homescreen.
The favorite contacts are placed on top, each represented by the contact photo and their first name. Four contacts are visible at a time and you can scroll left and right for the rest.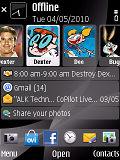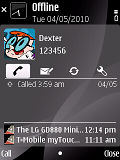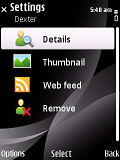 The new Contacts bar • viewing a contact from the Contacts bar
Under the Contacts list, it's pretty much standard Active Standby. There are up to three panels, but the third slot is always occupied by the "Share your photos", so you only get to choose two.
There are three options – Calendar, email notifications and Ovi Contacts. There's also a music player panel, which shows up when there's a song playing (if the Ovi Contacts is enabled, it's hidden while the music player panel is visible).
The calendar panel shows the most recent upcoming appointment in the calendar. The email panel shows the number of unread messages and sender and Re: field of the most recent message. The Ovi Contacts panel shows your status and number of friends online.
Below the panels are up to 6 shortcuts to applications and you can assign shortcuts to the left and right soft keys.
The old Active Standby layouts are still here and include Basic - you can assign shortcuts to the D-pad, Horizontal icons bar - the old Active Standby and, finally, the Vertical icons bar, which has only tabs (shortcuts, calendar, music player and personalization) but doesn't hide much of the wallpaper.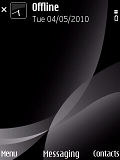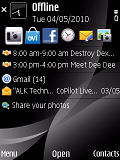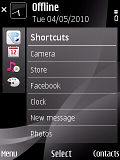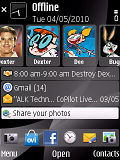 Basic • Horizontal icon bar • Vertical icon bar • Contacts bar
As with all Symbian phones, there is a built-in voice recognition system. It does a good job, being fully speaker-independent and recognizing a fairly high percentage of our commands.
The task manager appears on every pop-up menu. It's actually placed on top of every list, which can be a little irritating at times, considering you can still invoke it with the well-known shortcut of pressing and holding the Menu key (the one with the House pictogram).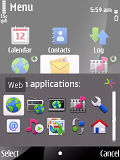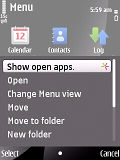 The Nokia 6700 slide is a good multitasker
The Nokia 6700 slide is powered by a 600MHz CPU, which might sound like a slow CPU in the world of Snapdragons, but it's high for Symbian standards. The UI is zippy and multitasking isn't a problem.
Telephony
Signal reception is great on the Nokia 6700 slide. The phone has good in-ear sound quality with loud sound and good signal reception. Vibration is also strong enough to make sure you never miss an incoming call or message.
A pleasant surprise was the smart dialing feature, which is usually reserved for the Eseries.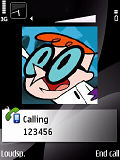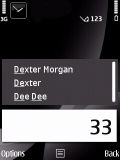 Calling Dexter on the Nokia 6700 slide
The results from our loudspeaker test are at your disposal - Nokia 6700 slide turned out to be a very good performer in this respect. Check out the table showing how it stacks up beside some of the handsets we've put to the same test.
| | | | | |
| --- | --- | --- | --- | --- |
| Speakerphone test | Voice, dB | Pink noise/ Music, dB | Ringing phone, dB | Overall score |
| Nokia X3 | 65.7 | 66.2 | 66.6 | Below Average |
| Sony Ericsson Aino | 66.5 | 66.2 | 75.9 | Good |
| Nokia 6700 classic | 75.1 | 66.6 | 75.7 | Good |
| Apple iPhone 3GS | 69.5 | 69.5 | 71.7 | Good |
| Nokia 6700 slide | 75.5 | 65.8 | 82.7 | Very Good |
| HTC Touch2 | 75.7 | 75.7 | 82.7 | Excellent |
You can find more information about the test itself and the whole list of tested devices here.
Phonebook is robust
The Symbian handsets have an excellent phonebook with virtually unlimited capabilities. There is storage space for a practically unlimited number of contacts and fields with all the available memory potentially usable for the purpose. Contacts can be freely ordered by first or last name and can naturally be searched by gradual typing of any of the names.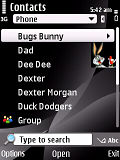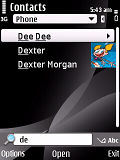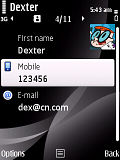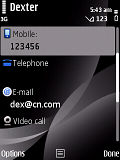 Contacts list • searching by gradual typing • viewing contact details
Editing a contact offers a great variety of preset fields and you can replicate each of them as many times as you like.
Personal ringtones and videos can also be assigned to a contact. If you prefer you may group your contacts and give each group a specific ringtone.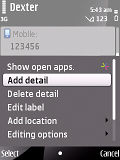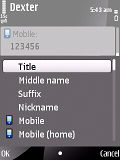 An enormous variety of fields is available when editing a contact
Synchronization is also nice and easy although you do need the Ovi Suite for things to go smoothly. Sending and receiving contacts via SMS or Bluetooth is also a piece of cake.
The Call log application on the Nokia 6700 slide is as pedantic as the other Symbian call logs. It holds up to 20 call records in each of the tabs for outgoing, received and missed calls. These are all accessed by pressing the Call key on the homescreen.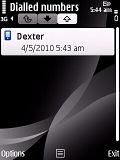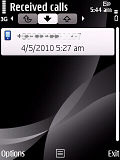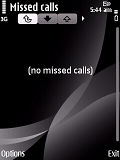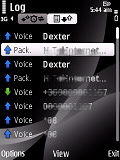 The call log is there to keep track of your communications
If you enter the Log application from the main menu, you'll see a detailed list of all your network communications for the past 30 days. These include messages, calls and data transfers over the air or even over Wi-Fi.