Messaging is nice
The Nokia 6700 slide has very good messaging capabilities. With a decent keypad and great software support managing your correspondence is as good as it gets on this kind of devices.
The 6700 slide supports all common message types - SMS, MMS and email. The SMS and MMS share an editor.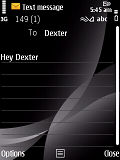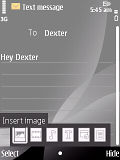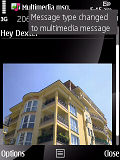 Turning an SMS into MMS is as simple as adding any multimedia content
The email client is also very similar to what previous Symbian powered phones have offered. The app can automatically detect the settings for over 1000 email service providers, all you have to do is enter your email address and password.
However, we had some issues with it – we had to enter the settings manually for our Gmail test account to get it working.
There is support for attachments, signatures and basically most of the things you can think of, so the Nokia 6700 slide can meet almost any requirement regarding the user's emailing needs. Unfortunately, there's no preinstalled document viewer on the 6700 slide, so you'll need to snatch one off the Ovi Store to view attached office files.
Ovi Contacts chats with Gmail
Ovi Contacts app comes preinstalled with Nokia 6700 slide but you can also install it on most other Nokia smartphones. It integrates tightly with the Contact list and you can easily switch between the two.
Contacts are synced with the Ovi cloud (along with calendar items and notes) and they can either be existing Ovi Contacts or G-Talk users (that's Google's own IM service, which is also integrated into Gmail).
Thanks to this service you will be able to chat in real time with all your Ovi/Google Talk-connected contacts, change your status messages and mood, and all that kind of social networking stuff.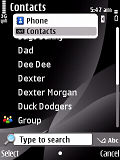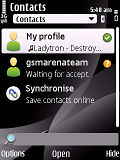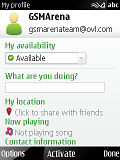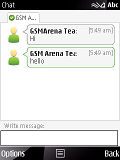 Ovi Contacts is a capable IM client
Ovi Contacts can also be used to share the name and artist info for the track you're currently listening to. It can share your location too, but you'd need to connect an external GPS for that.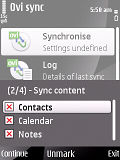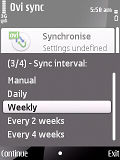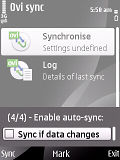 You can use Ovi Sync to synchronize your contacts and organizer items with the cloud
While you probably don't have many contacts using Ovi for chat, chances are that quite a few of them have a Gmail account and they can use that to chat with you. They could use iGoogle too or a desktop client like G-Talk. Multi-protocol clients can usually handle G-Talk too.
Music player is good, but the 6700 slide is not a music phone
There's little diversity is Symbian music players – the one on the Nokia 6700 slide is the exact same one found on XpressMusic devices (not that that's a reason to complain in this case). It handles the most common audio formats - MP3, AAC, eAAC+ and WMA.
The Nokia 6700 slide is hardly what we'd call a music-oriented device though. The audio plug is the 2.5mm type, not exactly the most common variety. Plus, there are no dedicated music control keys on the 6700 slide body.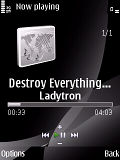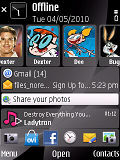 The music player "Now playing" interface • song info on the homescreen
Quite naturally, the player can be minimized to play in background. A panel shows up on the stand-by screen and indicates the currently running track. It can also be used for skipping songs and even fast-forwarding and rewinding.
So, this takes care of controlling the music and the lack of dedicated music keys is not a huge loss, but not having a volume rocker is quite annoying. You have to switch to the music player each time you want to adjust the volume.
Sorting your songs by artist, album, genre and composer is automatic and searching tracks by gradual typing of the desired name is also available.
It is worth noting that the Nokia 6700 slide is supposed to play music up to 29 hours on a single charge – an impressive number given that the battery has just 860mAh capacity.
The player comes with five equalizer presets and, should they seem insufficient, you can edit them or create new ones in a matter of seconds.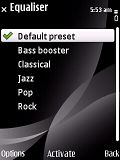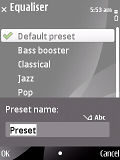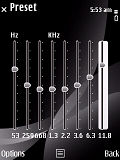 Six equalizer presets are available • creating a new one
Remarkable audio quality
The Nokia 6700 slide has excellent audio output, with no weak points whatsoever. It may not be the loudest handset on the market but the tracks you are listening to will sound exactly as they were meant to.
The readings in our audio quality test were as good as (or almost as good as) we have seen from a mobile phone. Not that we haven't been impressed with all Nokia handsets that we have tested recently, but the 6700 slide is certainly one of the best performers. We are very pleased that Nokia made no compromises here despite the relatively low price tag of the device and lack of 3.5mm audio jack.
Here are the results so you can see for yourselves.
| | | | | | | |
| --- | --- | --- | --- | --- | --- | --- |
| Test | Frequency response | Noise level | Dynamic range | THD | IMD + Noise | Stereo crosstalk |
| Nokia 6700 slide | +0.07, -0.40 | -90.0 | 90.0 | 0.0059 | 0.015 | -90.9 |
| Nokia 6303i classic | +0.07, -0.38 | -84.5 | 90.4 | 0.134 | 0.028 | -91.6 |
| Nokia 6303 classic | +0.27, -0.08 | -75.9 | 75.9 | 0.0075 | 0.042 | -71.7 |
| Nokia 5310 XpressMusic | +0.29, -1.69 | -94.4 | 92.0 | 0.015 | 0.491 | -73.8 |
| Nokia X3 | +0.07, -0.44 | -88.3 | 88.3 | 0.0067 | 0.016 | -89.0 |
| Nokia 5230 | +0.03, -0.05 | -86.7 | 86.5 | 0.0033 | 0.016 | -84.0 |
| Nokia 5530 XpressMusic | +0.11, -0.84 | -90.9 | 90.8 | 0.010 | 0.454 | -90.6 |
| Samsung M7500 Emporio Armani | +0.86, -6.28 | -80.1 | 80.1 | 0.017 | 0.134 | -73.9 |
| Sony Ericsson W508 | +7.30, -2.18 | -85.9 | 84.7 | 0.0052 | 0.020 | -84.7 |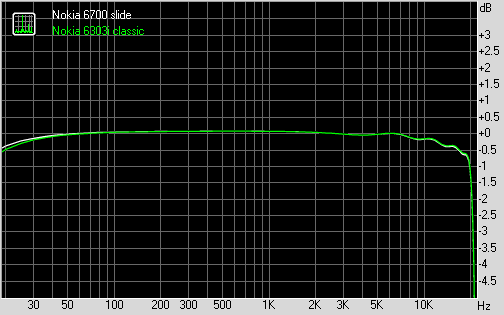 Nokia 6700 slide vs Nokia 6303i classic frequency response graphs
You can learn more about the whole testing process here.