Save the date – the Nokia 6 (2018) is coming on January 5! We originally heard about a January 19 event, so either it was pulled up or HMD is planing two rapid-fire events.
Anyway, there's no need to wait until Friday, TENAA already posted the spoilers. The new Nokia 6 will keep the old-school 16:9 screen aspect ratio. However, the fingerprint reader moved to the back, below the 16MP (single) camera.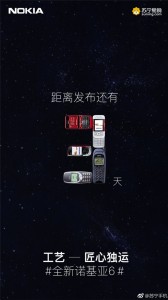 The "3" means "in 3 days", the text at the bottom says "The new Nokia 6"
The Nokia 6 (2018) is also getting a tangible upgrade in processing power – Snapdragon 630. Okay, it doesn't sound too impressive, but consider that the original used a Snapdragon 430. Check back for the official details this Friday.
Same. they launch Nokia 6 in Indonesia at August which is maybe 7 months old
If they launch this phone in a slow pace in other countries, then it is a big failure for them. Waiting so long makes it less desirable :(
NOKIA, can you please release a sexy red and a dark teal version of 6 and the 9 when released please.