The Nokia 6, which arrived in the US back in July this year, has now become more widely available in the country. The device is no longer an Amazon-exclusive, as another online US retailer - B&H Photo - has also started offering it.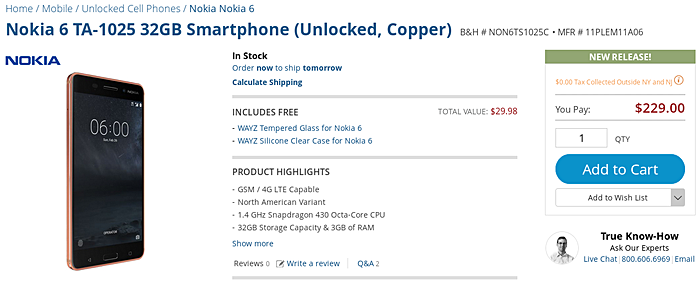 Available color options include blue, silver, copper, and black (Matte Black). Pricing remains the same at $229. It's worth mentioning that Best Buy is also including a couple of freebies - tempered glass and silicone clear case - worth around $30.
G
Your article mentiones 'Best Buy' but the posted screwn-shot is from 'B&H'. Which one is it?
Z
Who said a lot of people loves op? I see now just trolls and bots everywhere that pushing on 1+5 sales. They says how much they sold 1+1 but don't ever says 1+5 sales. They are weak. That's why we see op bots everywhere.