Browser improved, a bit
The browser interface n Symbian Belle has been shuffled a bit, resulting in improved usability but it's nothing major.
On top you have the URL bar, which auto-hides ones you start navigating the page. Once you start typing a "Search for..." pop-up lets you choose one of several search engines (Google and Bing are offered in most locations).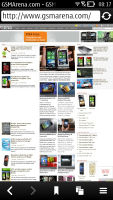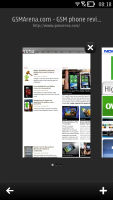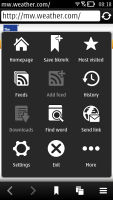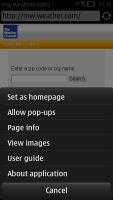 Symbian Belle brings refined browser UI
At the bottom you have a fixed row with five shortcuts - Back, Forward, Bookmarks, Tabs and Menu. The addition of the Tabs shortcut makes managing multiple pages easier - in earlier versions you had to go through the popup menu, adding a few extra clicks.
The popup menu itself is pretty much the same - you get RSS feeds, find on page, Most visited and other options, along with a "More" option, which brings the final set of options for the browser (but you'd rarely need to use those).
Text reflow is supported, which makes reading sites meant for desktop that much easier on the mobile screen. Kinetic scrolling is also available.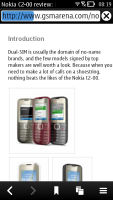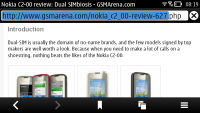 Browser supports text reflow • Browser in landscape mode
The browser supports FlashLite 4 and promises to play YouTube videos at 360p, but we'll leave those tests for the review when we have more time and a phone with final software.
The browser felt fluid and fast when we panned around a page and zoomed in and out. We didn't really
see any pages break either.
Nokia has spruced up the Symbian browser in Belle and claim it's now three times faster. We couldn't verify that claim as we couldn't find a benchmark that worked well on both Anna and Belle. We'll try again for the review, maybe we'll find a benchmark that works properly on both by then.
First impressions
The updated Symbian Belle is not news any more - we mean not after our Nokia 701 preview and an in-depth software review. The Nokia 700 however, is. It's good news for loyal upgraders. It must be good news too for some of the unfaithful who might want to end an affair and come back home.
The Nokia 700 is the second phone to carry the new Symbian Belle. It's also the company's second 1GHz Symbian smartphone. Upon a casual glance, it's bound to always be second best. It seems the updated software and the new 1GHz CPU is all there is to it. That and the NFC pairing abilities. The rest of the specs are reasonable but nothing we haven't seen before.
Still there's no way for such a good-looking phone to live in anyone's shadow. We've seen plenty of beautifully designed and well-built phones from Nokia but the Nokia 700 has that rare bit of magic, which is hard to define - and resist.
Out of the two latest Symbian smartphones, the Nokia 701 is the better-equipped while the Nokia 700 is the better-looking. Two solid performers are about to give Nokia a solid boost in the midrange. Neither is mind-blowing but you'd do well to keep an eye on both. Especially on the slim and stylish Nokia 700. We'd gladly have both of them back for a full review of course but a little bias doesn't hurt once in a while. Don't blame us - it's the Nokia 700.