Browser improved, a bit
The browser interface has been shuffled a bit, resulting in improved usability but nothing major.
On top you have the URL bar, which auto-hides ones you start navigating the page. Once you start typing a "Search for..." pop-up lets you choose one of several search engines (Google and Bing are offered in most locations).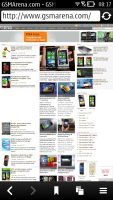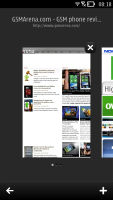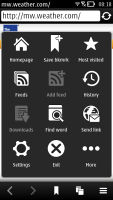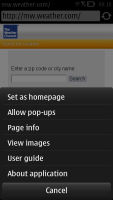 Symbian Belle brings refined browser UI
At the bottom you have a fixed row with five shortcuts - Back, Forward, Bookmarks, Tabs and Menu. The addition of the Tabs shortcut makes managing multiple pages easier - in earlier versions you had to go through the popup menu, adding a few extra clicks.
The popup menu itself is pretty much the same - you get RSS feeds, find on page, Most visited and other options, along with a "More" option, which brings the final set of options for the browser (but you'd rarely need to use those).
Text reflow is supported, which makes reading sites meant for desktop that much easier on the mobile screen. Kinetic scrolling is also available.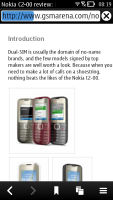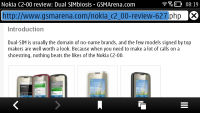 Browser supports text reflow • Browser in landscape mode
The browser supports FlashLight 4 and promises to play YouTube videos at 360p, but we'll leave those tests for the review when we have more time with the phone.
The browser felt fluid and fast when we panned around a page and zoomed in and out. We didn't really see any pages break in the browser either.
Nokia has spruced up the Symbian browser in Belle and claim it's now three times faster. We couldn't verify that claim as we couldn't find a benchmark that worked well on both Anna and Belle. We'll try again for the review, maybe we'll find a benchmark that works properly on both by then.
Connectivity covers all bases
We don't usually cover connectivity in our previews, but the Nokia 701 is worth an exception with that impressive list of options.
First off, the basics. You get a true worldwide-ready phone: quad-band GSM/GPRS/EDGE and five-band 3G with HSDPA (14.4Mbps) and HSUPA (5.76Mbps). Wherever there's a GSM network you'd get voice calls and data, blazing fast data if the networks supports it.
Then for local connectivity, you get Wi-Fi b/g/n and Bluetooth 3.0 (no HS profile though). There's USB with On-The-Go support for wired connectivity. The 3.5mm audio jack doubles as a composite TV-out.
There's even an FM transmitter, so that you can easily play your music on your car's stereo.
The star of the show however is the NFC support - it makes pairing as simple as you could possibly imagine, just put two NFC-enabled gadgets (e.g. the 701 and headset) together and the two will pair. Hooray, no more PIN codes!
Sending stuff works the same way - select the files you want to send (one or many) and tap the two phones together. They'll handle the rest, including switching on the Bluetooth receiver.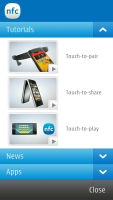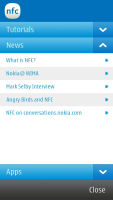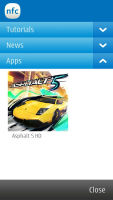 The NFC Tutorial app will teach you everything you need to know about using NFC
It would have been nice to have Wi-Fi Direct or Bluetooth 3.0+HS to speed up file transfers, but unless you're sending long HD videos, things go fast enough.
First impressions
While we weren't wowed by the hardware (well, okay - the screen is pretty impressive), the new Symbian Belle felt almost revolutionary. Maybe if it had come out earlier, it would have helped Symbian cling to its top spot in smartphone platforms.
It's still rough around some edges and lags behind in some areas, but it would be nearly impossible to convince us to go back to the old Symbian (even Anna) now that we've tasted Belle.
In a way, the Nokia 701 is the 5800 XpressMusic of its generation - it leads the way, without necessarily being a flagship. It worked out quite well last time and the 5800 sold with millions.
The Nokia 701 certainly has enough items on its spec sheet along with enough bragging points (the 1,000 nit screen, powerful chipset and brand new OS plus excellent connectivity) to have a good shot at replicating that success.
Will it? Maybe, we'll wait and see. But it should be a welcome breather for Nokia until they muscle in on the market with Windows Phone 7.