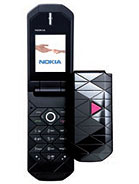 l
Nokia is the best. It's good that Nokia still makes some low featured phones, because not everyone needs such a cool phone with lots of options and abilities.
M
Good that its not too thin like samsungs because samsungs are like bulimics the thinner they get the more they deteriorate e.g U100
F
The Least Nokia could have done was to put a darn VGA camera on this cheap a** Prism!
M
cute phone and nice design but it doesn't have much features installed inside...
D
Nice Looking , Low Specs ... Sure Later Nokia Will Make New Ver Of It With Camera , Then Another Ver With Better Specs , Thats Sucks ... They Wont Just Hit The Point Straight ...
Total of 315 user reviews and opinions for Nokia 7070 Prism.