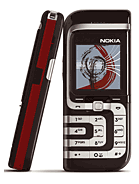 ?
nowhereas good as its better version, nokia 7610 that fone has much better features and looks than this one, but still an alrite fone
K
The design is bad, the screen too small. I agree with someone else. Nokia used to be fabulous at their design. The 6230 and the 6820 are two of the best designs made by Nokia, they were sensational and I loved carrying them around. But now, they are making their phones too flat and too square. I guess the white cover looks nicer than the black on this phone but all the same it doesn't appeal to me.
s
What I hate about it...I forgot.

Is anyone else spun out by the keyboard? I can barely focus on the keys.... trying to hypnotize me??? :P


s
Ok,

Nokia is evolving backwards. The 7610 had way better features than this, and looks are pretty similar. Why such a small screen? If this phone should be cheaper, than it doesn't need a 1 MP camera, but at least a good screen. What about SD and MP3??

I think Nokia is trying to please everyone which doesn't work. Too many models, customers don't have an overview anymore.
Either you focus on quality and high-standard phones, or on low-standard affordable phones. Which one is your niche? Which one is your CORPORATE IDENTITY???
?
nokia used to make some of the best looking phone which shake the mobile world, the 8810,8850,8250,8210,3210(at the time of launch).

Look at what is happening to their phones now. It just turns me off.
K
Looks mediocre, it just doesn't appeal to me and I can't say why. I guess its jus because Nokia are a company full of talentless designers, especially in flip phones. I guess its better than the other latest phones they have brought out. But I won't consider buying it, EVER. You know what, Nokia just try and rush so many phones out to make money they don't care if their phone looks like a mess. Nokia stop bring out so many phones at once and concentrate on a good design because its a good phone encased in blandness.
?
hey nokia, carry on with all your stupid design and u'll be doom in no time. I've never regret leaving nokia for SE.
Total of 555 user reviews and opinions for Nokia 7260.