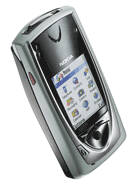 P
I'm tired of everyone who's comparing the T68 with the 7650, and people calling the later a T68-killer.They are completely different types of phones.The 7650 is more a PDA,it weighs almost twice as much as the T68.And it will certainly cost much more than the T68.Have heard that they have said that the price will be similar to the 8310, can't see how that will be possible with a digicam,colourscreen etc.It will probably be in the same pricerange as the communicator 9210.
However, it seems like Nokia are getting desperate, now that Ericsson and Siemens have showed us some very competetive phones. Why would they otherwise show us this phone now.And why would they release a phone like 6510 otherwise than the mediahype,it's completely similar to the 8310.
And if your not convinced that Nokia are in trouble, check out Ericssons upcoming answere to the 7650, http://www.cellularmania.kataweb.it/rassegna/archivio/novembre2001/20_08.shtm.
*
beautiful handset, a truley master piece.
Yes it could (MUST!) have a FM radio, for it to take the number 1 slot. We now have competion between (Ericsson/Sony) V Nokia. Personally I think Nokia will win.
M
i think it's very very good phone may be there isn't fm radio or mp3 player...but i think it's much better than the t68.cause i've tried it & i got bored quickley...go ahed nokia cause u still the king......
c
Feel sorry for Nokia...they just couldn't make a small mobile with colour screen to fight with T68, instead they can only come out with this high end products which not many people can afford....also other new models like 6250, 3150 or whatever...is sort of very similar to previous model with not much new functions like bluetooth and tri-band......Sory Ericsson gonna rocks next year !!!!!!
N
Nokia 7650-models are the better smart phone in the world!!!.
Everything is better this phone!.
(Nokia is winner,again!).
j
it seems to be a very good mobile as we know from nokia, but i think its not that danger to ericsson t68 , cuz of the t68 has many featuers that 7650 doesnt have, like the tri-band and ems and on the other hand the 7650 has featuers that t68 doesnt have, so each phone is targeting on different market and different ppl. not to forget that this phone has only 3 more featuers which we can say its something new, which is the web-cam , the resolution is better , and the operating system is new . other things are normal and everything it has u can find it in the t68 and more , and a big disadvantage for this phone is the size and the weight. i think those 2 mobiles r the same rate , its just about the ppl and which one they will like to buy , cuz i dont think this phone cant kill t68 as many ppl r thinking.

A
This definitely looks like a promising phone. However there are definitely two disadvantages worth mentioning. The first one is the weight of the phone. At 154g it is almost twice the weight of my t39m. Secondly, it is only a dual-band phone which will make various businessmen reluctant to buy the phone, as for example both the T39m and the T68 have tri-band capabilities. The digital camera and the flipping keyboard is quite an ingenious idea though. Just curious to see what the price will be!
J
My friends, this is not a phone. This is much more a PDA. Just look at the size weight.and I think it is strange that Nokia is presenting now products that will, in the best of chances, be available in June.T68 sure scare them. Good for them.
o
I am interested in the free sample so plz provide me with 1.well make it two
Total of 995 user reviews and opinions for Nokia 7650.