A new member of the Prism Family saw light today. Nokia 7900 Crystal Prism is what the newly announced model is called and it is obviously aimed at the fashion-savvy ladies.
The new Nokia 7900 Crystal Prism was developed in cooperation with the designer Frederique Daubal and features unique laser-etched graphic designs and wallpapers as well as exclusive accessories.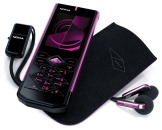 Nokia 7900 Crystal Prism takes its name after the crystal on the D-pad
Apart from the bling-bling crystal fitted on the navigational D-pad and the hip design of the aluminum back cover, the Nokia Crystal Prism is no different from the original Nokia 7900 Prism. You can have a glimpse of our recently released review. It sports a 2" QVGA OLED display supporting up to 16 million colors. The user can also choose among 49 different colors for the backlighting of the handset.
In addition, the Nokia 7900 Crystal Prism features "living" wallpapers, which change dynamically taking into account the time of day, and the battery and signal strength status thus creating unique graphics for your home screen.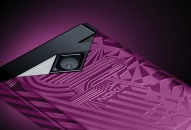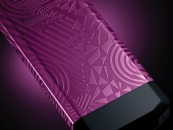 Nokia 7900 Crystal Prism's laser etched back side
In terms of connectivity, Nokia 7900 Crystal Prism sports quad-band GSM/GPRS/EDGE support plus dual-band UMTS (unfortunately with no video calls support). In addition to a 2 megapixel camera with flash, the phone comes with 1GB of internal memory (no memory card slot available). The 7900 Crystal Prism uses a microUSB port for data transfers, which is becoming increasingly popular among latest Nokia phones.
The Nokia 7900 Crystal Prism will be available as soon as Q1 of 2008 with an estimated retail price of 375 EUR before taxes or subsides.
k
Why does Nokia keep reincarnating this useless phone? They should take advantage in the inside not the outside!
a
Might look nice but what about the Price for it,it might be too much for Ladies i think,at least Nokias starting now releasing for 2008 i wonder what might be next,hope its the N96
?
What beautiful,unique color,design,Love it
ADVERTISEMENTS