Low-light performance
We found the Nokia 808 PureView low-light performance worthy of a review of its own. You can read the really detailed analysis there, but here's the short version.
In dim lighting the Nokia 808 PureView really makes its large sensor count and blows competition out of the water. In its full-res 38MP mode it does allow the noise to raise its ugly head, but still captures amazingly detailed photos. What's even better, the noise is of the far more acceptable luminance type and not the colored chormatic noise typical for most smartphones.
Switch to the lower-res 8MP mode and you get virtually noise-free images up to ISO 400 and usable ones even at ISO800.
We started with testing the xenon flash mounted on the 808 PureView, which Nokia claims is twice more powerful than the one on the N8. We were hardly surprised that it allowed us to capture some pretty impressive photos in both 38MP and 8MP modes.




Flash test: Nokia 808 PureView 38MP • Nokia 808 PureView 8MP • Samsung Galaxy S III
The 808 PureView continued its great streak even after we disabled the flash. The smartphone managed to once again put the Galaxy S III to shame, and even managed to hold its ground against the Olympus E-PL2 Micro Four Thirds camera and the Canon 550D DSLR.




No flash test: Nokia 808 PureView 38MP • Nokia 808 PureView 8MP • Samsung Galaxy S III
A warning is due here, though. When things get extremely dark, the Nokia 808 PureView sometimes selects a shutter speed of 1/16 or even lower, which means that images are likely to come out blurry due to both camera shake and motion blur. If the PureView opted for a higher ISO setting instead, you would have ended up with slightly noisier but sharper images and we think that would be the better decision.
Naturally you can enter creative mode and set the ISO manually, thus allowing the Nokia 808 to select a higher shutter speed, but since the currently selected speed isn't indicated anywhere on the viewfinder, there's no way of telling when you need to do that.
That aside, the Nokia 808 PureView low-light performance isn't as good as its specs suggest - it's way better than that and it certainly exceeded our expectations. And it's not just stills either - the 1080p footage captured in low-light environments comes out really great too. Just check out the following comparison to see what we are talking about.
Video camera interface and features
The video camera interface looks a lot like the still camera. You still get Automatic, Scenes and Creative modes and their settings are similar to those of their still imaging counterparts.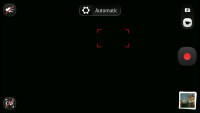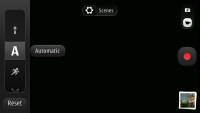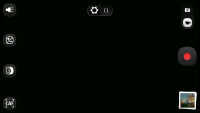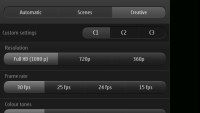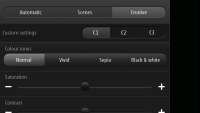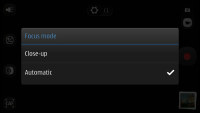 Nokia 808 PureView camcorder UI
You do get two extra settings - you can toggle the Video light and the Continuous Autofocus (CAF). If CAF starts hunting for autofocus too often, you can disable it. This will enable Hyperfocal mode, which should keep most things in focus (unless they are less than a meter from the camera).
With creative mode, you can pick from several resolutions and framerates. The resolution settings are 1080p, 720p and 360p. For framerates you get the most popular options - 30fps, 25fps, 24fps and 15fps. This lets you play cinematographer with 1080p@24fps or put the 808 PureView through the indignity of shooting a 360p@15fps video for an MMS message.
The really good news is that zooming works in video mode too, even during recording. In the highest resolution mode you get up to 4x lossless digital zoom and that number even goes up as the resolution goes down - 6x for 720p and a whopping 12x for 360p.
Nokia has taken great care to produce the best video quality possible. 1080p videos are shot at 25Mbps encoded with H.264 high-profile and the audio recording has received a lot of attention too.
Nokia's Rich Recording technology allows the 808 PureView to record both very low frequencies and very loud sounds (up to 140-145dB) without distortion - they claim it produces "almost CD quality" audio.
Video quality and comparison
The still photography skills of the Nokia 808 PureView get the most attention with the astronomically high resolution. The 1080p videos that the phone shoots might not beat the competition by numbers alone, but that huge sensor sure is a great thing to have.
In fact the user interface video on page 3 of this very article was shot on a Nokia 808 PureView. You can find more details on this experiment of ours over here.
Videos are stored in MP4 files. The 1080p@30fps came out with a bitrate of 20-21Mbps, but a more dynamic scene should see an increase in that number. The sound is recorded in stereo with 129 Kbps bitrate and a sampling rate of 48 kHz.
The videos themselves are excellent: smooth, free of noise and with great level of detail. Color rendering is identical to the one in still images, which is to say accurate, but a bit undersaturated.
We found that the continuous autofocus would trigger a bit too often - it's quick and unobtrusive, but you still might want to disable it. Luckily, you can do that straight from the viewfinder even in the middle of recording a video.
720p @ 30fps videos are shot with 10-11Mbps framerate and look pretty amazing themselves. Not to mention that they allow for even more zooming action.
You can also download this 1080p@30fps (0:06s, 13.4MB) video sample and this 720p@30fps (0:07s, 9MB) sample.
Moving on to our Video quality comparison, the Nokia 808 PureView videos came out with rather cool colors under the artificial light in our studio.
The texture of the material that we use for the fake sky in the background is visible, which is good (too aggressive noise reduction and compression get the better of it in most phones), but surprisingly it's not quite the best. The grass and the faux wooden pieces of the Ferris wheel look great though.
Under poor lighting, the large sensor helps the Nokia 808 PureView but there is evident loss of quality. The texture of the 'sky' is still visible in places and there's practically no noise here. However, the faux wooden pieces are smeared away and the grass doesn't look too good.
The synthetic resolution chart shows the Nokia 808 PureView measures up to the best in class, but there's no big advantage here like in still photography.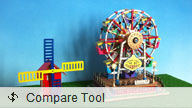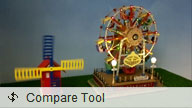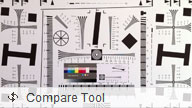 Nokia 808 PureView against Apple iPhone 4S and Samsung Galaxy S III
And here's how the 808 PureView compares to the Canon 5D Mk II DSLR and the Sony DSC-H5X point-and-shoot, both of which are highly rated for their video recording capabilities (in their respective classes, of course).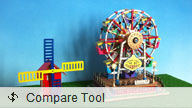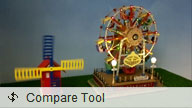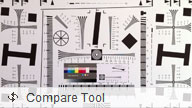 Nokia 808 PureView against Canon 5D Mk II DSLR and Sony DSC-H5X
The Nokia 808 PureView is easily one of the best phones for recording video in terms of quality. It didn't blow the competition out of the water, though. Still, it has more to offer aspiring film makers - the fine control over resolution, framerate, focus and image setting is unmatched by any other phone.
The killer feature of the Nokia 808 PureView is the lossless digital zoom - up to almost 4x if you shoot at 1080p. We should clarify "lossless" - you don't lose quality when zooming in (as with other digital zoom methods), but you gradually lose the advantage that oversampling gives you.
So, at maximum zoom you don't get the tack sharp, detail rich imagery you usually get, but the results are still pretty good and vastly superior to any digital zoom. And keep in mind that 3x-4x zoom is typical for point-and-shoots, so the 808 PureView has them matched here. Drop down to 720p and you get 6x, which gets you into a higher price category of point-and-shoots, while maintaining the excellent quality. And you really gotta acknowledge the fact that at fully extended optical zoom these digicams see a sharpness penalty too. Not to mention their aperture becomes noticeably smaller thus letting less light in.
We shot the resolution chart at no zoom and at full zoom, here's a crop that shows the difference in performance: