Few weeks ago we reported that Nokia plans to sell the 808 PureView in the US through Amazon.com. Now the phone is in stock on Amazon and is being sold for $699 without a contract and unlocked.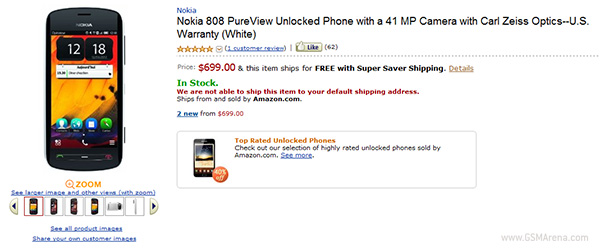 As is the case with unlocked GSM phones in the US, you will be able to use it with an AT&T or T-Mobile SIM.
While the price is way to high when compared to some of the other markets where the phone is sold and especially for the US market where people are used to spending no more than $200 on a high-end smartphone on a contract, it is still at least an option to someone who might have considered purchasing this phone for the camera and now doesn't have to go through the trouble of importing it from other regions.
So are you that someone who was waiting for this phone and are now going to get it regardless of the price? Or do you think you will skip it and wait for the inevitable Windows Phone devices with PureView technology? Do let us know in the comments below.
T
Anyone considered one very important detail-Android, whatever guise it comes in is riddled with all sorts or security 'holes' allowing just about anyone that wants to, to hack an android handset(talking NSA,FBI,CIA,INTERPOL,ad nauseum) regardless of...
A
and don't forget to mention Rich Recording Technology for the better audio and video.
?
This phone would have been kick ass if it were dual/quad core. Cmon nokia battery is no. 2 problem, give people what they want, not what u think. U will come out with dual or quad core anyway someday then why wait. Just my 2 cents.
ADVERTISEMENTS