We've already seen Nokia 808 PureView pre-orders pop up elsewhere but now we're talking the UK.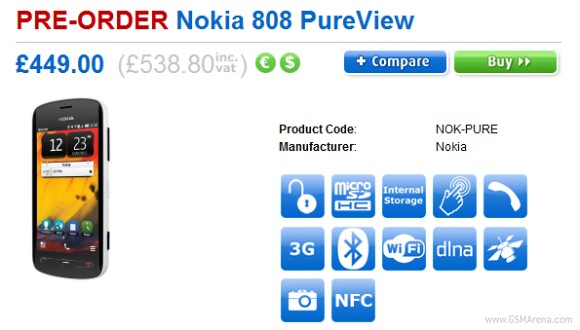 Clove.co.uk now offers the ultra-high-megapixel cameraphone but the pricetag is a bit harder to swallow than the one we saw from Nokia Italy. With the VAT included, the UK price amounts to £538.80, which is roughly €655, while Nokia Italy's asking price is €599.
We hope other UK retailers chime in on that one and make a more palatable offer for the Nokia 808. A Dutch retailer, for instance, has a pre-order listed at €565.
Clove doesn't mention a release date but the Nokia Italy pre-order had May as a projected time frame for the launch of the highly anticipated cameraphone.
j
they have stepped up to the challenge this is belle fp1 greatly inproved again you android guys dont know what you are talking about
j
it is a decent size screen... what do you want 10" on you mobile???
j
HEY WISE GUY... im a techi guy and love symbian more than android, ive tried android and it is not that fast as you would think lots of hype around the android os
ADVERTISEMENTS