The retro Nokia 8110 4G has launched in India, fashionably late. The phone sells for INR 6,000 on Nokia.com, that's $82/€72 (the same as in Europe). It's available in Black and Yellow (this is the banana phone, after all).
The 8110 4G is part of the new breed of feature phones that runs Kai OS, which is quickly growing in India. About a month ago the platform got WhatsApp, also Google is bringing its apps, including Maps and Assistant (yes, the new 8110 has a GPS receiver, but it can't do voice guided navigation).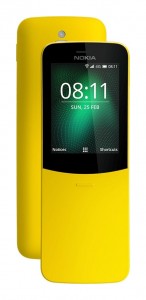 Nokia 8110 4G in Black and Yellow
Note that the phone is also available on Amazon.in, however, it's from a third-party seller that charges over INR 6,000. You're probably better off going through the official site.
?
I'm sure this banana phone has more appeal than a new N95 would. That's just a slider whereas this is a really special form factor.
g
If Nokia is going to come out with old phones. they should do the iconic phones like 8800 , N95/97, Xpress 5800 etc.. those are phones i would love to re-own. This banana phone does not appeal to anyone. I think my baby would play with an iphone 4 th...