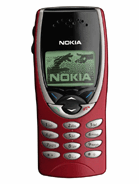 a
Eyin Agborodun,

Mo sese ra phone yi ni, mio ti eti mu dele, sugbon bi mo se ka awon ipere won yi, odabi wipe phone 8210 ko ni sise dada bi mo ti ro o.

Olorun a ko'wa yo ninu eyi ta kosi yio o. Nibo l'ama gbegba bayi
m
Small and light, however reception is not great, and these are prone to hardware problems, four months old and at times won't read sim on startup. I've sold mine, gone back to motorola.
t
does anybody know why nokia make phones so small for contract tariffs???--well il tell you its so they are easier to loose and guess what?? If your not insured then you only have to pay £890
A
in my opinion the 8210 is probably one of the best mobile phones in the world. The size and features speak for themselves. You really get your money's worth with this product.
R
I'm a lucky owner of a 8210. I think it looks great and afcourse it's supersmall. The best phone i'd ever had.
Total of 468 user reviews and opinions for Nokia 8210.