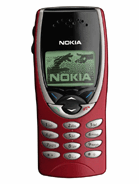 A
in my opinion the 8210 is probably one of the best mobile phones in the world. The size and features speak for themselves. You really get your money's worth with this product.
R
I'm a lucky owner of a 8210. I think it looks great and afcourse it's supersmall. The best phone i'd ever had.
Total of 464 user reviews and opinions for Nokia 8210.