Organizer has stood the test of time
The organizer of Nokia 8800 Carbon Arte has undergone very little changes compared to the other S40 models. Not that it needs many, as it is handling time-management almost perfectly. Month, week, and day views are available for the calendar. The week can start on Monday, Sunday, or Saturday. There are also five types of events available for setting up: reminder, meeting, call, birthday and memo. Further, each type of event has its own unique fields like start and end time, type of alert with various advance intervals, daily, weekly, monthly, and yearly repetition.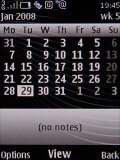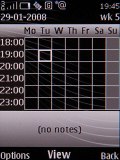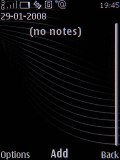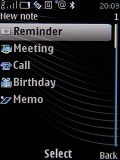 The different calendar view modes and the events available for setting up
There is also a handy to-do manager that enables you to categorize you tasks in three priority levels. Tasks can be alerted of, as well as marked off once accomplished. They are easily synced with the calendar application. Text notes are available as well; their length limit is 3000 characters.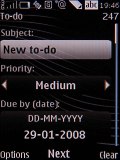 The to-do manager helps you organize your tasks better
The alarm clock is repeatable; it can be set to go off on any weekday and works even when the phone is switched off. A nice touch to it is the possibility to set snooze time to any interval you like.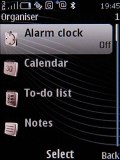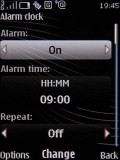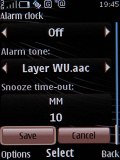 Setting up an alarm on the Carbon Arte
Furthermore, there is a cool feature utilizing the built-in sensor that shows the clock when you shake the phone twice. It also works upon tapping the keypad cover twice if you prefer it this way.
The other organizing functions available include a voice recorder with a 60-minute length limit, stopwatch, countdown timer and a calculator. They are all easily operable and decently looking. This time however, the calculator offers two different versions - a basic application and a scientific version with more functions available. An elaborate loan calculator is also at the user's disposal.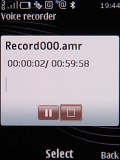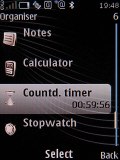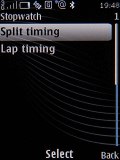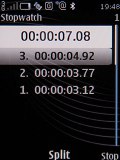 Some more organizer applications from Nokia 8800 Carbon Arte - voice recorder, countdown timer and a stopwatch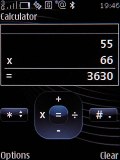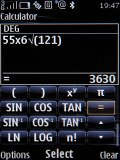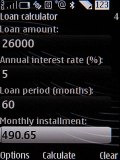 The calculator offers simple and scientific modes, as well as loan calculation
Plenty of applications
Nokia 8800 Carbon Arte has a decent set of preinstalled applications outside the organizer.
First in line is the size converter that provides quick conversions across various size standards. From shoes to shirts, everything is covered.
Then there goes the unit converter. It offers all kinds of converting options, including currencies.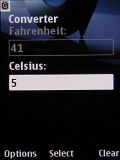 Almost any type of unit conversion is available with the Nokia 8800 Carbon Arte
The search application helps you find the piece of data you are looking for on you handset, while the download application takes you to the Nokia download center. There you are going to find a lot of useful stuff for your handset. The WidSets application is also aboard the Nokia 8800 Carbon Arte. It represents a group of web based applications that can be accessed at the cost of only a few clicks.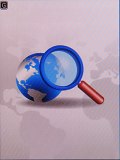 Search and WidSets applications
There is also a dictionary, which offers quick multilingual translations. Unfortunately, the word database is not that big, so don't expect too much of it. The world clock application that can tell you the current time in every spot of the world completes the list.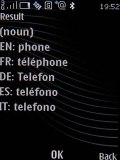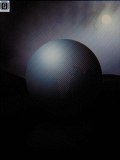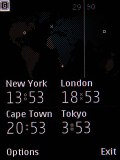 Unluckily the dictionary has a relatively small word database • The World clock application
Only one game is available
Gaming lovers will probably feel disappointed with the Nokia 8800 Carbon Arte preloaded content. It features a single game - Golf Tour. Although it has acceptable graphics and decent gameplay, we aren't quite impressed. Besides, we have seen it on dozens of handsets already.
Anyway, it is hard to imagine a Nokia 8800 Carbon Arte owner fooling around playing games on their mobile. Now, even this design-centered device can be turned into a portable gaming console with the dozens of compatible games available for download.
Final words
You have probably made up your mind by now about buying the 8800 Carbon Arte or not, and there is little we can say to change it. One thing is for sure - budget and Nokia 8800 Carbon Arte just don't rhyme.
The looks and the feel of this phone are awesome and you can bet attention has been paid to every detail. Even if you tried really hard there is barely a thing you can complain about as far as design and construction is concerned. We doubt it tech-freaks will get a kick of those sleek curves but they were never meant to be the target of Nokia 8800 Carbon Arte.
At this stage Nokia is the unchallenged sovereign of this niche. And they can do whatever they want as it seems - even if it's replicating the same design and swapping one piece of exotic material for the next. In the premium segment it's a different set of rules. We're talking a market where upgrading from Sirocco to Arte may as well be considered bad taste. Owning the complete set is more like it.