Born with a silver spoon
Nokia 8800 Gold Arte review: Born with a silver spoon

Great phonebook
The phonebook on Nokia 8800 Gold Arte offers space for up to 2000 contacts and extensive configuration options. Each contact can be assigned a variety of fields but the phone numbers are limited to 5. Also, first names are separated from last names eliminating problems which may occur with synchronization.
Different ringtones can be assigned to each contact. Naturally, you can also assign personal pictures or videos that will run on an incoming call. The picture displayed is different for incoming and outgoing calls, as it fills the screen when you are on the receiving end of a call, and only take a small part of it when you are calling one of your contacts.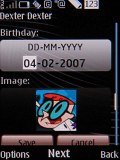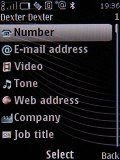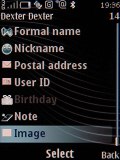 Editing a contact * a good number of fields to add
There are three available view modes for your contacts: List-of-Names, Name-and-Number and Name-and-Picture. It can display the SIM card contacts, the phone memory contacts or both at the same time. The phonebook font size can also vary.
Searching is done by gradual typing. Contacts can also be organized in groups and these can consequently be used as call filters. Another praiseworthy application is the voice dial, which requires no pre-recording of the commands and phonebook names. It is even equipped with a training application that helps for better results when using voice commands and/or dialing.
The Call Log in Nokia 8800 Gold Arte won't surprise anyone who has ever held a Series 40 device in their hands. It can display Dialed, Received and Missed calls separately, as well as all of them together. Every submenu can hold up to 20 call records with their date, time and duration.
Telephony is fine
Signal reception and call quality are in line with the Nokia 8800 Gold Arte's high standards. Calls are loud and clear on both ends eliminating any possible obstacles to communication. After all a handset like the Gold Arte is mainly intended to be used for making calls so any compromise in this area would be a deal-breaker.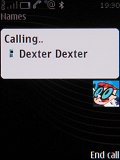 Calling Dexter on the Gold Arte
However, many would consider the lack of video calling a real disappointment since it feels that the 3G support is not being used to the maximum. Of course, video calling is something we can live without, but it wouldn't hurt to have the option.
A nice feature of Nokia 8800 Gold Arte is the turn-to-mute functionality. It allows muting an incoming phone call or an alarm by simply flipping the device over.
Here is how Nokia 8800 Gold Arte ranks along some of the other handsets we've measured in our speakerphone loudness test. It certainly doesn't have the loudest speaker around but it's a certain improvement over the previous Artes, which only scored Below Average in our test.
You can find more info about the test itself, as well as results from other tested devices here.
| | | | | |
| --- | --- | --- | --- | --- |
| Speakerphone test | Voice, dB | Pink noise/ Music, dB | Ringing phone, dB | Overall score |
| Apple iPhone 3G | 66.1 | 62.1 | 71.7 | Below average |
| Nokia 8800 Gold Arte | 70.8 | 69.9 | 66.9 | Average |
| Samsung Armani | 69.7 | 64.6 | 71.0 | Average |
| Motorola RAZR2 V8 | 66.3 | 65.7 | 81.9 | Good |
| LG KF700 | 72.8 | 71.7 | 79.2 | Very Good |
| Nokia 6500 classic | 74.7 | 75.7 | 83.8 | Excellent |
Messaging is well oragnized
The Message menu of Nokia 8800 Gold Arte is almost perfectly organized. The handset is capable of handling practically any type of message - SMS, EMS, MMS and e-mail.
The first three types share an editor and all you need to convert an SMS to an EMS or MMS is to apply text formatting or insert any multimedia content. As soon as you activate the editor, it displays a field for entering the number of the recipient, which you can insert through standard typing, select it from the phonebook, from the caller groups, or from the list with the most recent addressees in the call register. There is even the very handy option to set a contact as a messaging favorite in case you frequently write to one particular person.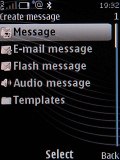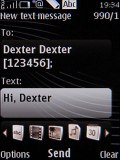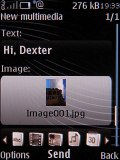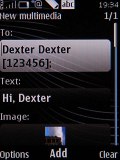 The supported message types * typing an SMS and an MMS to Dexter
Everything in the editor is intuitive and is organized in a practical time-saving manner. Once you have inserted the relevant number, a single click will shift to the message body where you can start typing. Naturally, the phone also offers a rich T9 dictionary to make texting even less of a chore.
Message length is limited to 1000 characters with both the count of typed characters and the number of parts the message will be divided into constantly visible. All messages use the shared memory, regardless of their type.
The email client is ok. It automatically adjusts its settings once you enter your email address and then all you need to do is enter your username and password. No more time wasted on trying to get a long list of settings right for the client to work.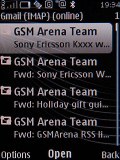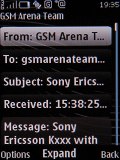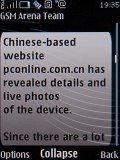 The e-mail client is really elaborate
It works with POP3, SMTP, and IMAP4 protocols and supports multiple email boxes. When a message is to be sent, it finds the email address of the corresponding recipient in the phonebook. Outgoing attachments are not limited in size.
The client downloads the headers and then offers to download the entire body of the messages you need. You can also set the messages to be automatically downloaded in full if data traffic is no problem.