Nokia 8 camera interface leaks, second rear cam will have monochrome sensor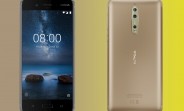 Nokia 8 still has around two weeks until the official launch on August 16, but after a leak on Baidu, we know a bit more about the ZEISS camera setup from the UI. There will be two cameras, one with a monochrome sensor and the other with a conventional RGB one.
As seen on the images, the interface has a sandwich menu in the top left corner from which a camera setup can be chosen. Three options are available - RGB, dual-lens or Monochrome sensor.
The photo also reveals there will be a dual camera mode, where you use the rear and the front cameras to create a collage in real time. It's hardly a new features among Androids, but it's not universally supported so it's nice that the Nokia 8 will have it.
According to rumors, the Nokia 8 will come with Snapdragon 835, paired with 4 GB RAM. One of the main cameras will be 12 MP and the phone will be able to shoot 4K video from both its front and back cameras.
The Nokia 8 will allegedly cost around €500.
Thanks for the tip!
J
completely true. Symbian was the true father of Mobile Os. It supported that additional Dedicated Image Processor on Nokia 808 which can't be supported by Android in the near future because of limitations. Even the 1020 took about 5 seconds to...
h
God had nothing to do with it......unless you think Nokia is a GOD :D