Some have called it 8, others - 9, but according to this latest intel, the long overdue new-Nokia flagship will be called Nokia 8 and it's reportedly coming on July 31. The info comes from an unnamed Scandinavian retailer that also discloses the price - €589.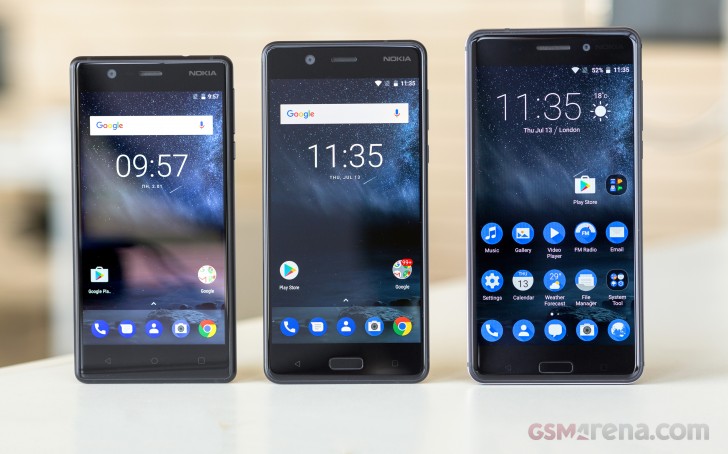 Nokias 3, 5, and 6, waiting for big bro
It is the same model that's been popping up here and there - the TA-1004 received FCC certification and showed up on Antutu after visiting GeekBench in 4GB and 8GB trim levels. Well, the mysterious Scandinavian retailer says only 4GB of RAM will be available, at least initially, and storage will be 64GB.
Four colors schemes should be available at launch - blue, steel, gold/blue and gold/copper, though the marketing team may have different ideas for the naming of those.
General consensus on the specs has settled on the Snapdragon 835 for chipset (the go-to choice for a high-end SoC this year), a 5.3-inch QHD display, and a pair of 13MP rear cameras. Some evidence on these points came from a supposed real-life Nokia 8 unit, albeit a camouflaged one, though it went by 9 at the time.
There's just a little over 2 weeks until July 31, so we'll everything for a fact soon enough.
Shout out to Arne for the tip!
A
people always fail to realize that Nokia has always been expensive not because of it's specs and features but because of its quality and durability, people tend to forget the prices Nokia had before Microsoft acquired the brand and destroyed it with ...
?
I think Nokia is drunk.
?
Very cheap for Nokia. They were greedy company in past.
ADVERTISEMENTS