Display
The Nokia 8 has an LCD panel, which is something that's becoming less and less prevalent among similarly specced devices. It boasts QHD resolution, and at 5.3" in size that results in a whopping 554 ppi density. We've tried very hard to see individual pixels on this display, but couldn't. The amazing 700 nits of brightness it reached in our testing have translated accurately into real life use, as we never had any issues discerning the content on the screen, even outdoors in the sun on the sunniest of days. In fact, this phone's sunlight contrast ratio is the best we've ever seen for an LCD, and manages to beat even some AMOLEDs.
Color accuracy seems decent overall, with one notable exception, that was also evident in our standardized testing: the whites are bluish - and not just a little. This is quite noticeable, especially if you place your Nokia 8 next to an iPhone or even any Pixel (regardless of which color mode you pick for the latter). Then again, people seem to like bluish whites, since a lot of smartphones ship with this 'feature' nowadays. This is something you probably won't mind, unless you're a fan of perfect display calibration.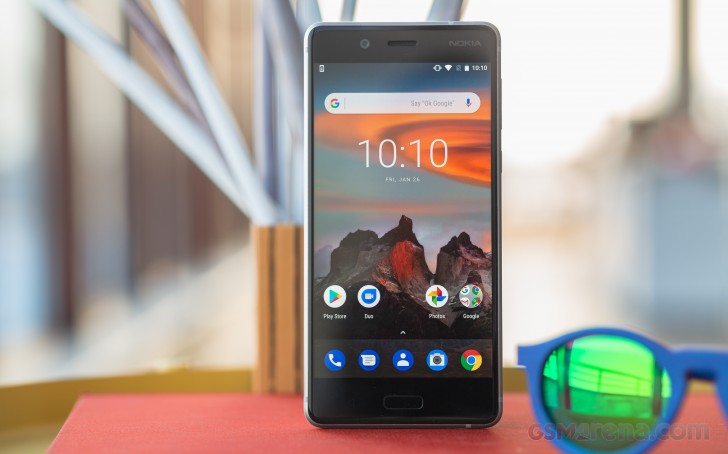 Black levels are very good for an LCD, but obviously no match to any panel using OLED technology, where the individual pixels simply switch off in order to display black. LCDs have backlights, and these need to remain on at all times, hence the difference. If you're switching from a phone with an AMOLED screen, there will be an adjustment period of at least a few days, especially if you're used to choosing black themes for your apps. You won't ever get those inky, pitch blacks on an LCD, and the Nokia 8's is no exception.
Viewing angles are great, and this is definitely one of the best LCDs out there. It's just that, for some usage scenarios, OLEDs are better. Then again, those can suffer from annoying issues such as burn-in and screen retention, so with each technology you basically win some and lose some.
Camera
The Finnish company's heritage in this space, coupled with the Zeiss branding on the back, would have you believe that the Nokia 8 employs a stellar main shooting array (it's a dual-camera). Well, prepare to be disappointed.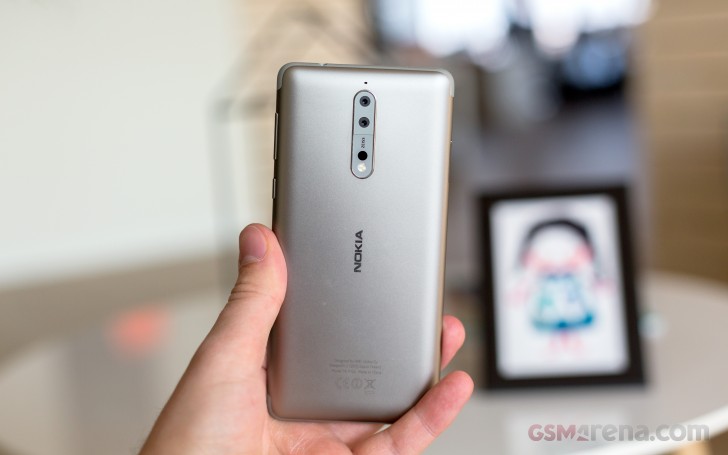 While it definitely manages to churn out decent looking pictures when there's ample natural light, unfortunately it's not in the same league with the best of the smartphone world at the moment (think Pixels, iPhones, flagship Samsungs, Mate 10s).
This is easy to understand when you notice that the Nokia 8's output doesn't excel in any area: dynamic range could be better, details are so-and-so, noise is certainly there, while color accuracy is generally on point but not always. What's worse, autofocus sometimes takes a while, and the whole experience of using the camera app can be laggy.
Here are some of the photos we took with it.
When it comes to low light shots, the situation becomes even more dramatic. Most of the times focusing is a challenge, and even if you're lucky to get past that the resulting images aren't amazing. In fact, a couple or so out of ten are rather unusable.
The low light performance of this camera reminds us of days gone by in the past when no smartphone shooter was able to rise above this level. The other flagship smartphones of today are capable of better results, and the Nokia 8 can't compare.
Selfies come out good in great lighting, although even then you may find you're out of focus for reasons we don't really comprehend. Low light selfies with the Nokia 8 are a rather pointless endeavor, unless you're into camera noise.
Video stabilization is on all the time and can't be disabled and it produces captures that look like they're from smartphones a few years old, before optical image stabilization arrived on phones, and before electronic image stabilization got as good as Google's.
Nokia 8 videos aren't bad per se, but once again we find ourselves having to point out that competing devices have moved onto better performance. On the other hand, the Nokia 8 has OZO microphones which really help when shooting concerts or things that are otherwise difficult for 'normal' smartphone mics to accurately capture.