Conclusion
Living with the Nokia 8 day in, day out is generally a good experience. Overall this is a good first effort for a flagship Android device. Let's not forget that despite Nokia's long history in mobile, that's exactly what it is - the first ever Nokia-branded top of the line model running Google's OS. The Nokia 8 has a good build, is easy to handle, and it feels quite premium with its metal unibody fit and finish.
The problem is that, despite bringing a great screen, good battery life, and flagship specs to the table, it doesn't particularly excel at anything. It's not a bad phone, but it struggles to stand out in the crowded Android world of today. In fact, its design is a good metaphor for the entire product - we'd call it safe and just a little bit outdated by now. There's absolutely nothing earth-shattering about the way the Nokia 8 looks, and similarly there's nothing overly exciting about the entire package either.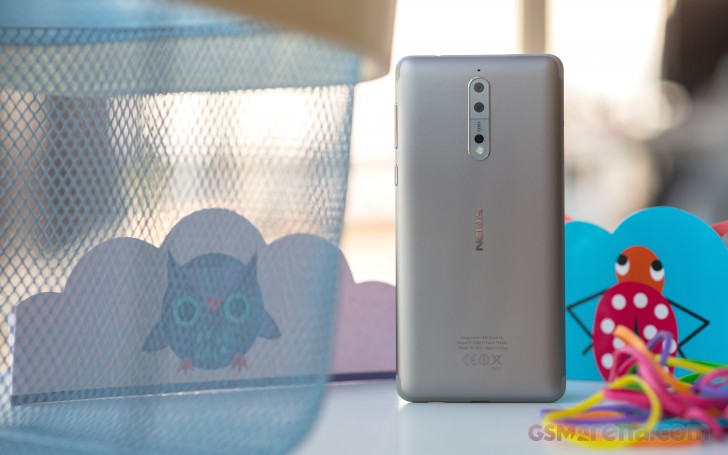 Moreover, it's definitely not perfect, with the main areas of concern being the cameras and the surprisingly inconsistent day to day performance given the silicon it employs and the pure version of Android it runs.
The most frustrating thing about the Nokia 8 is that it could have been so much better, so much more of a contender for the 'best smartphone of the moment' title, but when you look at the pictures it captures or when you encounter the odd software stutter or lag you realize it just can't hold a candle to some of its competitors.
On the other hand, most of those competitors, aside from the OnePlus 5T, are more expensive, so perhaps it's better to think of the Nokia 8 not as an all-out flagship, but as an affordable premium device that comes with some assorted downsides - much like the OnePlus 5T, actually.
There are now not one but two rumored handsets that are expected to outclass the Nokia 8 later in 2018, namely the Nokia 9 and Nokia 10, so perhaps the Finnish company will finally produce a compromise-free top of the line device with either of those. We'll have to wait and see.