Rejoice, Nokia fans, as the next PureView phone is finally here! The long-rumored Nokia 9 PureView has been unveiled at the MWC in Barcelona and both professional and enthusiast photographers should have something truly unique to talk about.
But before we dive deep into the next PureView camera, let's see what the whole phone is made of.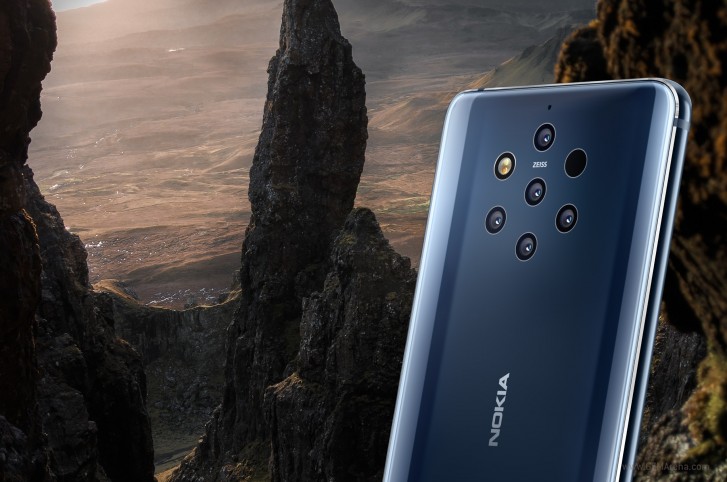 Well, it's glass, dual-glass to be precise and a metal frame holding those together. We live in the glass smartphones era, so there is little surprise HMD chose to stick with the timeless glass body. The Nokia 9 is also IP67-rated for dust and water resistance.
There is a 5.99" P-OLED display at the front, HDR10-compliant, with a flagship-grade resolution of 2,880 x 1,440 pixels or QHD+. A Gorilla Glass 5 piece keeps that OLED safe from cracks and major scratches.
Nokia has opted for an under-display fingerprint scanner, which is the latest trend, but you can also use AI-driven Face Unlock, if that's your thing.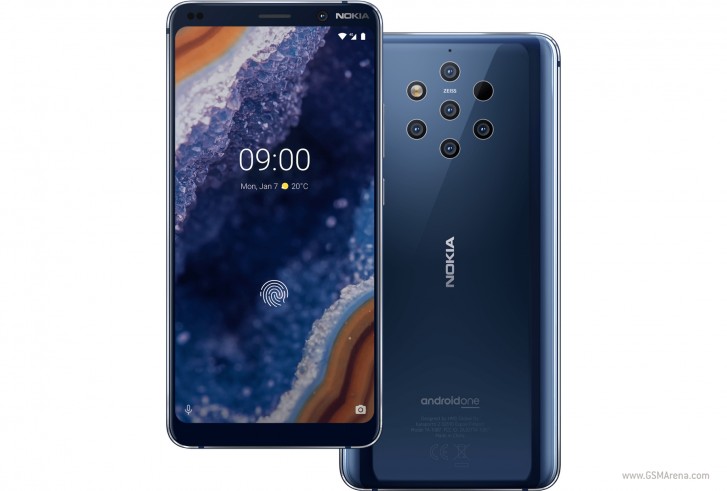 Oddly, HMD has opted for the Snapdragon 845 chipset for the Nokia 9, which is a bit outdated as the Snapdragon 855 is the current buzzword. Our guess is that since Nokia worked hard for a long time to optimize the camera algorithms, which use all the chip essentials - CPU, GPU, ISP, DSP - it would have been impossible to translate this work for the Snapdragon 855 samples when they became available late last year. Plus, the Nokia 9 PureView isn't that expensive, so there is that, too.
The Nokia 9 PureView will be available in only one color - Midnight Blue - and in only one version - 6GB of RAM and 128GB expandable storage.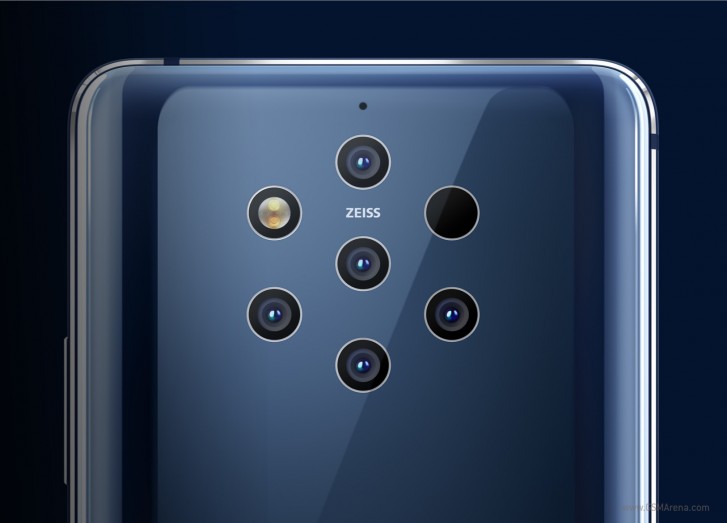 And now, let's see that new PureView camera.
There are five 12MP cameras on the back, all sitting behind f/1.8 Zeiss lens. Two of those are RGB and the other three are monochrome. There is also a sixth camera here - a ToF one - for additional depth information. A dual-tone LED flash is the final thing you'll see at the back.
Those five camera lenses have the same fixed focal length of 28mm. You won't find an ultra-wide angle or telephoto snappers, and the Nokia 9 doesn't brag with any fancy shooting modes. The PureView was never intended to be the world's most versatile smartphone camera but to deliver brilliant image quality on par with an expensive full-blown camera. So, how does it happen?
The phone combines the images from all five 12MP cameras, sometimes even multiple frames from each of those, into a single image with a spectacular dynamic range - up to 12.4 stops of difference in light which is as much as a large sensor camera. NSo overall, the Nokia Pureview promises unmatched scene depth detection and spectacular dynamic range.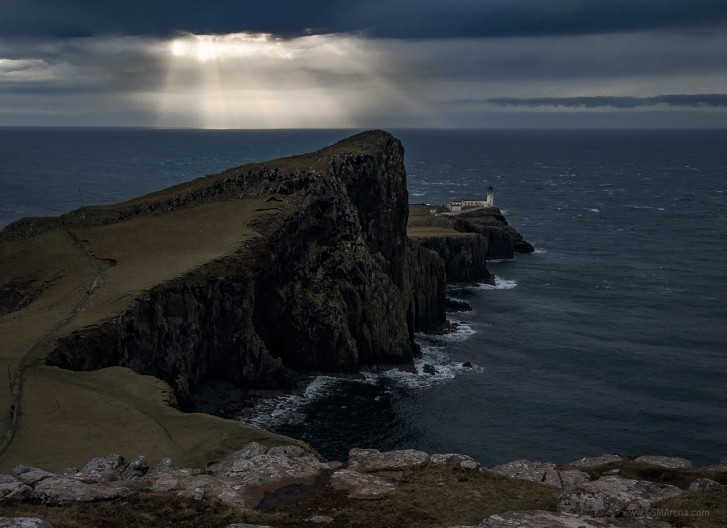 The Nokia 9 was also optimized for those who like to tune their RAW photos in post processing - like opening up shadows, bringing back highlights, and applying just the right amount of sharpening. The developers worked with Adobe to fully support editing RAW data from images taken on the phone. This can be done in the free mobile version of Adobe Lightroom. Interestingly, since Android One is all about a clean slate - Nokia won't even preload the app on the Nokia 9, but it will give you the option to install it during the initial setup.
Nokia has also partnered with Google so that Google's Photos app could natively understand how to support photos taken with the Nokia 9's five cameras. Google Photos will be able to adjust the focal point after taking the photo, adjust the amount of bokeh, and will be able to display the full-size RAW files - which are DNG.
Thanks to the sheer amount of camera sensors and the ToF camera, Nokia says that this setup can produce a depth map for more convincing defocusing gathering up to 1200 layers of depth data (as opposed to only 10 on most phones) for up to 40m away from the camera. This means we should see much more realistic bokeh in photos, the blur would gradually be stronger the further that part of the scene is from the camera. The depth info is stored within the photo and Google Photos will allow you to change the amount of defocusing after the shoot.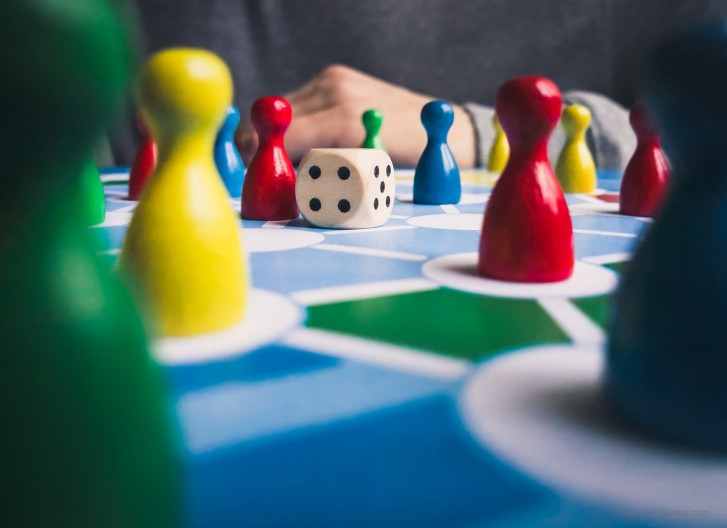 The Nokia 9 is smart enough to gauge when it is completely still such as on a tripod and will switch to longer shutter speeds in the dark (up to 10sec). It also supports full manual control, so all professional and enthusiast photographers could tune the settings however they need them.
The video recording part of the camera is not as exciting - up to 4K HDR videos at 30fps.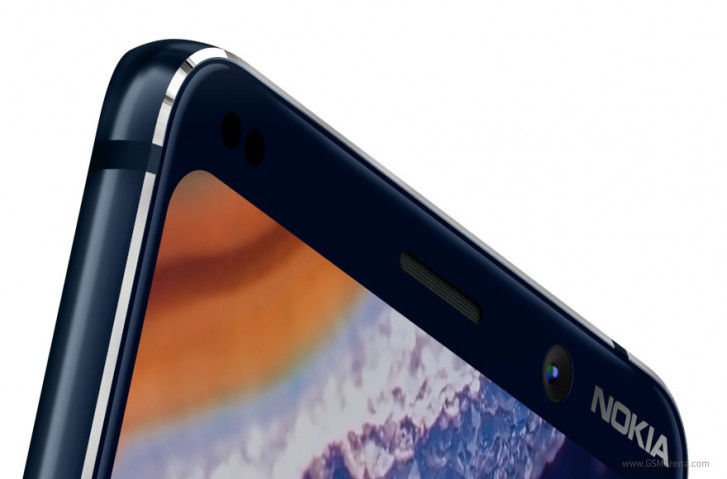 The Nokia 9 also has a front-facing 20MP f/1.8 camera. It supports Tetracell pixel binning so in low light situations it can combine four adjacent pixels into one producing 5MP images with less noise.
The Nokia 9 will come with Android One (Pie version) out of the box, so you'll know you're going to get quick and timely updates.
Finally, the last bit of the Nokia 9 is the 3,320 mAh battery. It supports fast wired charging (QC3 and USB PD), as well as 10W wireless charging. There is no audio jack on the Nokia 9, though.
Now, let's talk pricing. The Nokia 9 doesn't have the cutting-edge Snapdragon 855, probably because of the complexity of the camera and the long time it took making it, but it seems HMD has taken this into consideration - the Nokia 9 PureView is priced at $699 - noticeably cheaper than the current crop of flagships.
But there is also the fact that the Nokia 9 will have a limited production run. Once the stock is depleted - that's it. Nokia may not be producing any more devices. The company hasn't revealed exactly how many units it will produce, though.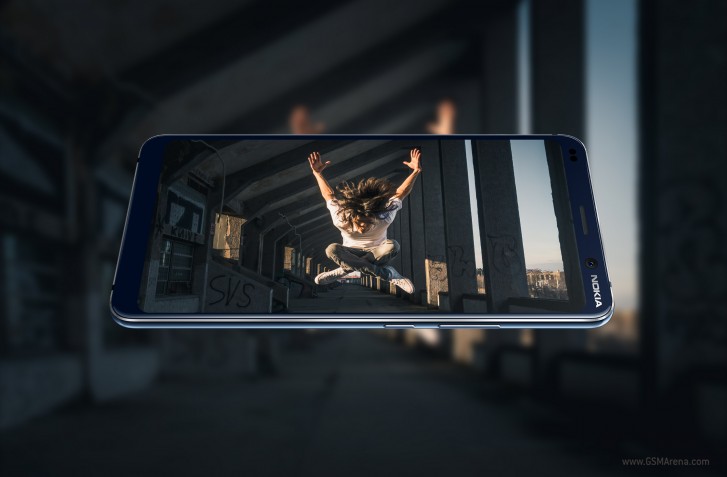 Maybe we will see a Nokia 9.1 with a Snapdragon 855 chip before the year ends, maybe we won't. It would probably depend on the success of this PureView, but it surely shapes to be as the one stop for truly exceptional photos on the go.
L
I m quite a Nokia fan, but Be careful to the shock and weather resistance design of HMD phone. I have my NoKia 9 in April, but the earpiece at the front glass shattered last month, without dropping or crashing it. They are charging a fee of usd1...
s
used to be a pro DJ here a decade ago. what do you need the jack for when exporting your music to a laptop? i still do get invited for gigs and i mostly just use my jackless phone (razer phone 1 and 2), either wedj or djay 2 for android, and a compat...
ADVERTISEMENTS