Nokia 9 PureView promo videos highlight the advantages of the penta-camera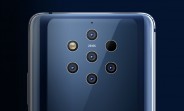 The Nokia 9 PureView is already available in the US and HMD is stepping up its promo campaign to drive those early sales. Three new videos highlight the best feature of the phone – the world's first penta-camera on mobile.
We'll start with the video that shows the camera's low-light capabilities and the control afforded by Manual mode, all in a short 15 second clip.
Next up is the more accurate depth of field rendering that is made possible by the five different perspectives. Each time you hit the shutter button, all five cameras (2 color, 3 B&W) snap a photo).
For more details, we have an in-depth shootout between the Nokia 9 and the iPhone XS.
The third video highlights the HDR capabilities of the phone.
There are plenty of camera samples if you want to check them out as well as some promo videos for the PureView and the other Nokia phones that were unveiled at the MWC.
Which is why I hope the Sirocco employs the bigger sensor and a higher resolution sensor. Imagine 5 of those cameras in that big of a sensor with modularity to add other lenses.
Those cameras are good(with going easy on them)! 1020? it was a master peace! i fear such thing never ever gonna happen again!(whit stupid phones have to be thinner)
?
No.. Each camera records a different exposure values.. So it can produce the perfect HDR.. The depth map is produced by the ToF sensor.. Google Pixel takes good HDR but using 1 camera to snap multiple pictures and stacked together.. This won't work i...