The Nokia 9 PureView launched earlier this year with a unique camera – a 5 module setup by Light, which relies on computational photography to boost image quality beyond what's possible with a single camera. That was the promise anyway, the actual results were disappointing – save for the bokeh rendering, which was much better than what the iPhone XS could deliver.
DxOMark just published its review of the PureView camera and the results aren't good – the overall score of 85 matches the three year old iPhone 7 and barely edges out the Nokia 8 Sirocco.
For still shots, some combination of the five cameras is used, plus depth info from the Time of Flight sensor. This makes for impressive bokehs and great autofocus, those are the two highlights of the Nokia 9 camera.
However, the promise of stacking images from the five cameras to create impressive camera zoom didn't pan out – Google's implementation using the single camera on the Pixel 3a performed better.
The video recording story doesn't end much better. Video stabilization is great, but the phone underperforms otherwise. Which is strange since the PureView uses only one camera for recording video, so it should have been a simple thing to tune. Actually, the Nokia 8 Sirocco got a better score for video – 82. Also note that image stabilization is electronic and available only in 1080p (so 4K videos are unstabilized).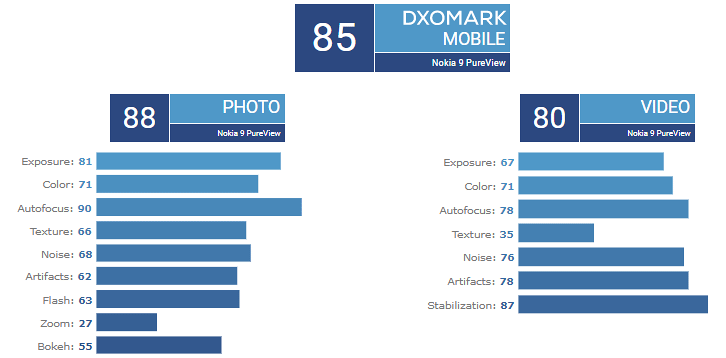 You can read the full DxOMark report to see what went wrong. Computational photography has done miracles and is behind the recent jump in image quality from smartphone cameras, but Light's implementation leaves much to be desired.
Even my mom also say that, she notice the Huawei Mate 20 selfie can makes people looks fatter (she look from the whatsapp group and always complain) I think it is the distortion doesn't come with any corrections or maybe the person captured are out o...
S
If u talking about wider lens, both Xperia 1 & 5 front camera has wider lens at 24mm, XZ3 even wider at 23mm. By that logic, u will looks more fatter on it than my Mate 20 26mm lol. Last time i check, my front camera works just fine, with no...
ADVERTISEMENT