Affordable phones for developing countries have arrived to the Cseries. Two of the new offerings are dual-SIM solutions and the other two offer good connectivity and multimedia for a very limited price. Nokia also announced a bicycle charging solution for areas with limited access to electricity.
Lets start with the Nokia C2 - before taxes and subsidies it will cost 45 euro (55 USD). The C2 is a dual-SIM phone and interestingly, the second SIM card is easily accessible and hot-swappable (a world's first). The phone supports the 900/1800 GSM bands.




The Nokia C2 has a unique dual-SIM solution - the second SIM card is hot-swappable
The battery is estimated to last 16,5 days on standby and 4 hours of talk time. The Nokia C2 also features VGA camera, GPRS Internet connectivity, Bluetooth and FM radio with broadcast recording. There's also a microSD card (up to 32GB, but those cost more than the phone itself), 3.5mm audio jack plus an MP3 player.
The other dual-SIM phone is the Nokia C1-00, which will cost 30 euro (37 USD). It doesn't have two active cards - just one, but there's a quick shortcut to switch between the two. The phone has a smashing standby of 48 days. It features an FM radio, 3.5mm audio jack and a flashlight.





The Nokia C1-00 has two SIM cards, but only one can be active at a time
This is where the new Nokia numbering scheme becomes a little confusing. The final two phones are the Nokia C1-01 (39 euro) and the C1-02 (35 euro) - both are somewhat similar, but not quite identical to the C1-00.









The Nokia C1-01 and C1-02 have a single SIM, but add a microSD slot and GPRS
The Nokia C1-01 and Nokia C1-02 only have a single SIM card slot, but offer GPRS, Bluetooth, microSD card slot (up to 32GB), 3.5mm audio jack, FM radio and MP3 player. The Nokia C1-01 features a VGA camera, which the Nokia C1-02 lacks.
The Nokia C1-00 is expected in the third quarter, while the other two in the last quarter of this year.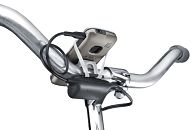 The bicycle charging kit from Nokia
By the year's end Nokia will also release the bicycle charging kit, which uses a dynamo to charge phones using the standard 2mm plug. It is targeted at areas with limited access to electricity, where bicycles are often the most popular mode of transportation.
p
it's reallyyyyyyyyyyyyyyyyyyyyyyyyyyyyyyyyyyyy amazing I can't believe.
v
will d two sims work at d sam tym in c2-00 mobil
D
Du u lyk duel sim fones?
ADVERTISEMENTS