Just as rumored, the centerpiece of the Nokia Lumia 1520 is a 6-inch 1080p screen. On the back you get a 20 MP PureView camera with OIS, while its beating heart on the inside is a quad-core 2.2GHz Snapdragon 800 processor (the first to be integrated on a Windows Phone).
The Nokia Lumia 1520 has 2GB of RAM, 32GB built-in storage and a microSD slot to expand that.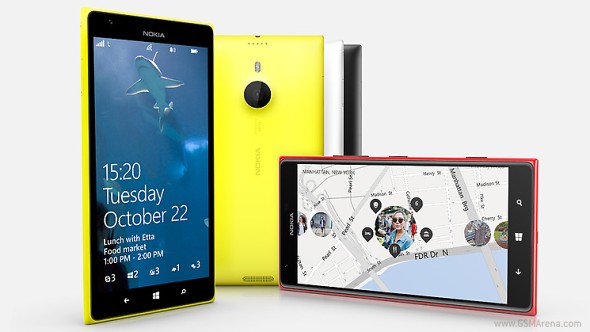 The new 1080p 6-inch screen has a pixel density of 368 ppi and is a ClearBlack IPS LCD unit with Super Sensitive touch. It's covered by Corning Gorilla Glass 2 for protection and Nokia has worked hard on its legibility in direct sunlight. The larger screen real estate now allows for a third column of Live Tiles on the homescreen or you can simply enjoy more large-sized tiles.
The Nokia Lumia 1520 takes after the Lumia 1020 design - it's actually like a supersized version of the 1020 sans the camera hump on the back. A part of the polycarbonate plastic used comes from recycling, so it's more environmentally friendly, too.
Inside the new smartphone there is a 3400mAh battery (as compared to 2000 mAh for the Lumia 1020), allowing for up to 32 days of standby and up to 124h of music playback.
There is a price to be paid for that battery capacity. While the Lumia 1520 is quite slim at 8.7mm of thickness, it's really heavy at 209g. In comparison, the 5.7-inch Samsung Galaxy Note 3 is way lighter at 168 g, while the 6.4-inch Sony Xperia Z Ultra (with all the glass it has on the back) weighs around the same at 212g.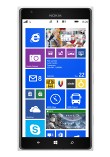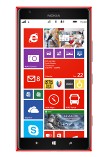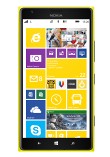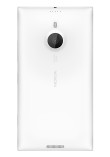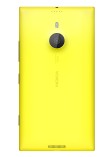 The Nokia Lumia 1520 in white, red and yellow
Connectivity-wise, the Lumia 1520 comes with Wi-Fi a/b/g/n/ac with channel bonding, NFC, Bluetooth 4.0, USB 2.0, LTE up to 150 Mbps, HSDPA up to 42.2 Mbps and HSUPA up to 5.76 Mbps.
The Lumia 1520 comes with four microphones on board, which not only get used for multimicrophone noise cancellation in calls, but also deliver Nokia's proprietary Rich sound recording.
The Lumia 1520 uses a 26 mm wide angle 20MP PureView camera with 6-lens Zeiss optics and a 1/2.5 inch BSI sensor. The camera has OIS and makes use of oversampling, which results into smaller res photos with less noise and also allows for lossless zooming. There is no xenon flash though, only a Dual LED one. Video recording maxes out at 1080p@30fps.
Nokia has also revamped the Nokia Camera app, integrating the Nokia Smart Camera and the Nokia Pro camera functionality inside the regular camera UI and allowing for a seamless camera mode changing.
Nokia has also developed a new app called Nokia Storyteller. It plots out all the photos you've taken on the HERE map. You can zoom in to specific locations and see the actual photos grouped by date of taking and location. It also integrates all your specialty photos - like cinemagraphs and Action shots (it would even animate the latter).
A new app called Nokia Beamer would also allow you to stream your smartphone's screen to any device with a web browser.
Software-wise, the Nokia Lumia 1520 will come with the latest stuff that Microsoft and Nokia have on offer. It's Windows Phone 8 with a little something called Lumia Black and it includes all the latest software enhancements from both companies. It comes with stuff like Nokia HERE Drive+ with global free turn-by-turn navigation, true offline support and audible speed limit warnings, the new Nokia Camera app, the Nokia Storyteller app, the Nokia Beamer app, but also Microsoft's new suite of Bing apps and customized ringtones for individual contacts, something that hasn't been available on Windows Phone so far. The Lumia Black update premiers on the Nokia 1520, but will be available as an update to other Lumias in the beginning of 2014.
The Nokia Lumia 1520 will launch in yellow, red, white, and black later this autumn, starting in Hong Kong, Singapore, China, the U.S. (an AT&T exclusive), France, Germany, UK and continuing to other European markets for a retail price of $749 before taxes and subsidies.
p
This is really an awesome phone ... Finally Nokia gives its fans a nice and wonderful gift...
o
really..nice and a strong phone till now
D
It will be the biggest miracle if they can sell 10million of this worldwide. There's more to the Note than a camera and a battery