It comes as no surprise that Nokia is still recovering from the fairly recent restructuring, brought about by the acquisition of its devices & services units department by Microsoft. But while a lot of people think the Finnish tech giant is dead, the latest fiscal report for 2014 definitely shows otherwise. The fact is that even though Microsoft is, for the time being at least, in charge of the Lumia brand Nokia is still a very reputable player in terms of network equipment and services and still carries out productive research activities.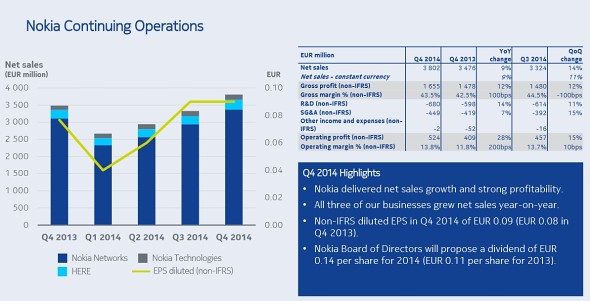 That being said the Finnish company has still a lot to account for when it comes to its three main divisions - Nokia Networks, Nokia Technologies and HERE. Even since the aforementioned acquisition was completed sales numbers and operation costs have been on the rise and the latest report now confirms that in Q4 2014 Nokia finally achieved higher overall net sales over the same period in 2013 when Microsoft was still out of the picture.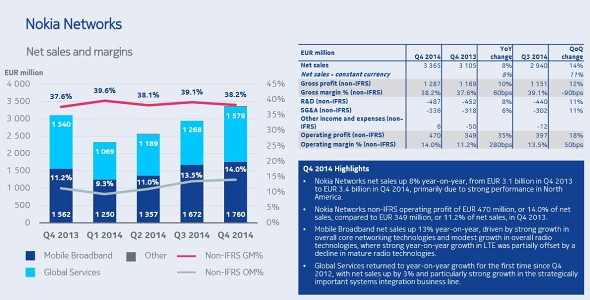 The year over year change is about 9% from 3 476 million net sales in Q4 2013 to 3 802 million in Q4 2014. This represents an even more impressive 14% quarter over quarter rise. Nokia seems to be getting on its feet again and predominantly thanks to Nokia Networks, which reals in more of the income with its operations stretching all around the world, but most notably in Europe and Asia-Pacific. Operational profit increase is even more impressive with 28% overall growth from 2013 and an impressive 25% for Nokia networks in particular.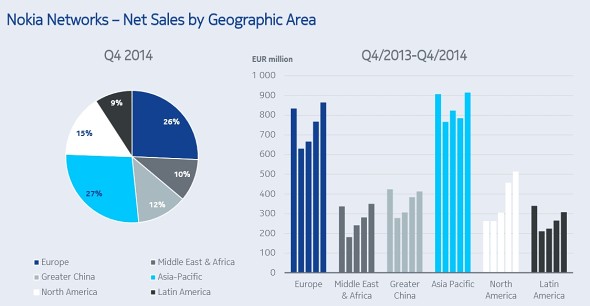 Even though networking seems to reel in the big money this is not to say that Nokia's other two major divisions are not doing good. On the contrary, Nokia Technologies, the dedicated research department marks a 23% yearly growth in net sales over 2013, but sadly a drop in operating profits. HERE, which concerns itself mostly with navigation and the HERE software, recently made available for Android is in pretty much the same position with 15% yearly net sales increase and 20% drop in operating profits.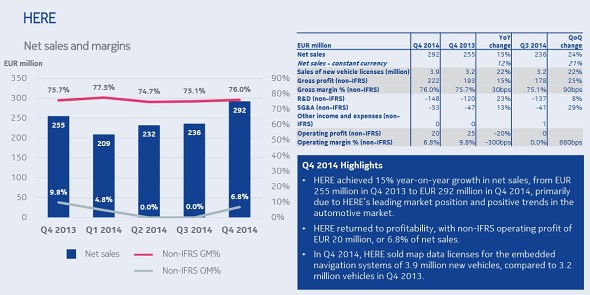 Rajeev Suri, current CEO of Nokia had this to say about the report:
The power of the new Nokia could be seen in our fourth quarter results. All of our businesses delivered strong year-on-year net sales growth. Profitability was excellent in Nokia Networks, and we were particularly pleased with our net sales growth in North America and core networks. HERE continued its momentum in the automotive segment, and the early reception to the Nokia N1 tablet has been remarkably favorable, showing the ongoing power of the Nokia brand and the long-term potential of our brand licensing business. Looking ahead, while 2014 was a year of reinvention, we see 2015 as a year of execution.
Things seem to be finally looking up for Nokia and with the Nokia N1 tablet already captivating users, perhaps the Finnish company still has a chance to regain some of its former glory on the mobile market, but for now all eyes are on Microsoft to take proper care of the Lumia name.
D
The new Nokia N1 tablet (android) is a new collaboration between Nokia and Foxconn....Nokia designs it, uses its tech, and Fox manufactures and sells it...rave reviews so far out of China. Nokia is unable to go back into smartphones until 2016 a...
D
The drop in operating margin at Technologies is Nokia's spending money to build out it's IP monetization program (IP/brand/technology licensing program) Just fyi, they've stated that the binding arbitration deal with Samsung (to determine how m...
Y
Wrong again, the use of "all but" in "all but dead" is an idiom and means "almost" dead or "nearly" dead. Please check online dictionaries. And then we close this chapter. Thanks.