Image gallery works well enough
The Photos app on the Nokia Asha 302 offers a couple of viewing modes - a grid of 12 pictures on the screen or Timeline. The landscape orientation of the screen helps when viewing photos because there are no black bars around the images.
Zooming in on photos is quite fast thanks to the speedy processor inside the Asha 302. It's not pinch zoom, but pressing and holding the center key/right softkey to zoom in and out works okay. Panning is fairly fast and smooth although we would have appreciated kinetic scrolling here.
There's a basic image editor on board, which can crop/rotate images, add text, clipart and effects, plus adjust brightness/contrast and color.
You can organize photos into albums, view them in Timeline and, of course, you can start a slide show. The Timeline option lets you pick the date and shows a 6 x 2 grid of photos taken on that date.
Creating an album is very straightforward and the album view makes it easier for you to sort through your photos.
You can also start a slide show, with user-defined settings like the interval between pics and transition effects.
As for the old-fashioned Gallery app, it's still here - but it's hidden in the Applications menu. It's a capable file manager, especially for a feature phone. It can manage folders and files - both one by one and in bulk.
Video player does DivX/XviD
The Nokia Asha 302 handled videos better than we expected - it even played DivX/XviD/MP4 videos at up to D1 resolution with very few videos failing to run properly. The most common problem we encounter was that the sound didn't work. The player didn't shy away from big videos - full-length movies and files over 1GB worked okay.
The interface is simple and to-the-point - users get a rewind, pause/play and forward buttons, going into options gives you fullscreen mode among others.
Plain music player
The music player on the Nokia Asha 302 is pretty basic. There are no great visuals and the now playing screen is as simple as it could get - just the name of the artist, album and song, and the usual set of controls: rewind, forward, pause and a timeline bar.
Unfortunately, there are some annoying limitations - for example, hitting the red receiver key turns off the music player and goes to the homescreen. The player can work in the background, but you have to go to Options > Play in background for that.
You can use the home screen widget - it's called Radio and media - for at-a-glance info on the currently playing track (artist and title) and for skipping tracks (along with fast forwarding and rewinding tracks). First you have to highlight the widget and the press left/right to change the song or press and hold to FF/rewind.
There are several basic equalizer presets hidden deeper in the Music player menus, two of which you can customize.
FM Radio with RDS
The music player interface has carried over to the FM Radio one and covers the same basic functions. It can play in the background too.
RDS support is available and you can make the handset search and save all available stations in your area. RDS info and frequency appear on the homescreen, much like with the music player.
Audio quality is a mixed bag
It's hard to describe the Nokia Asha 302 audio output in a single word as its performances varied quite drastically in the two parts of our test.
With no resistance applied to its line-out (when used with an active external amplifier), the Nokia Asha 302 was one of the best performers we have ever seen. It could easily match both the scores and the volume levels of even Apple's iPhone and that should really tell you something.
The bad news is, there's severe degradation when headphones come into play. The frequency response gets severely distorted and loads of intermodulation distortion creeps in. Stereo crosstalk increases too, adding up to a pretty mediocre overall result. So whether or not the Asha 302 audio output would be good for you mostly depends on how you use your phone.
And here come the full results so you can see for yourselves:
Test
Frequency response
Noise level
Dynamic range
THD
IMD + Noise
Stereo crosstalk
Nokia Asha 302
+0.04 -0.09
-87.5
87.4
0.0053
0.014
-88.3
Nokia Asha 302 (headphones attached)
+0.64 -4.70
-87.4
87.4
0.048
1.494
-48.1
Nokia Asha 200
+0.15 -0.31
-81.2
80.9
0.049
0.067
-78.1
Nokia Asha 200 (headphones attached)
+0.62 -0.39
-80.4
79.5
0.039
0.348
-56.2
Nokia Asha 300
+0.04 -0.09
-87.9
87.9
0.0050
0.014
-86.8
Nokia Asha 300 (headphones attached)
+0.53 -3.34
-86.8
85.6
0.042
0.917
-51.5
Nokia Asha 303
+0.04 -0.10
-87.5
87.4
0.0060
0.017
-73.3
Nokia Asha 303 (headphones attached)
+0.50 -0.17
-87.5
87.2
0.017
0.350
-55.7
Nokia Lumia 710
+1.94, -2.90
-80.9
80.8
0.061
1.603
-85.7
Nokia Lumia 710 (headphones attached)
+2.04, -2.69
-83.3
83.0
0.061
1.574
-54.5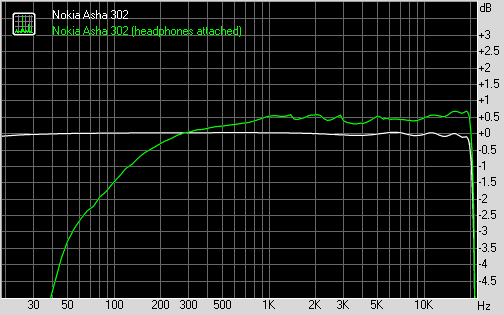 Nokia Asha 302 frequency response
You can learn more about the whole testing process here.