Simple image gallery
The Photos app on the Nokia Asha 303 offers only a single viewing mode, displaying a grid of 12 pictures on the screen. You can switch to landscape mode from the menu though – it makes better use of the screen real estate when you open a photo (there are black bars in portrait mode).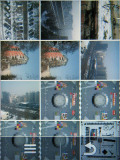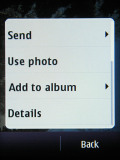 The Photos app is now a proper gallery
Kinetic scrolling is available and zooming into photos (via on-screen shortcuts) is relatively quick, but the animation for both isn't particularly smooth.
There's a simple image editor too, which can crop/rotate images, add text, clipart and effects, plus adjust brightness/contrast and color.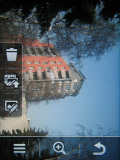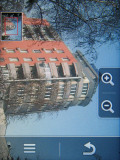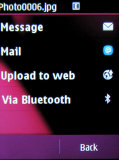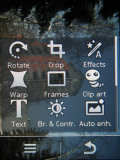 Viewing a single photo • Editing a photo
You can organize photos into albums, view them in a timeline and, of course, you can start a slide show.
As for the regular Gallery app, it's still here – but it's hidden in the Applications menu. It's a capable file manager, especially for a feature phone. It can manage folders and files – both one by one and in bulk.
Basic music player, offers shuffle
The music player of the Nokia Asha 303 practically hasn't seen any changes except getting touch support. It looks decent and has a solid set of features, including album art, and a fair number of supported formats.
Songs can be filtered by artist, album and genre. The player handles AAC, AAC+, eAAC+, MP3, WMA, AMR-NB. Naturally the A2DP profile is supported, allowing the use of stereo Bluetooth earphones.
Unfortunately, there are some annoying limitations - for example, hitting the red receiver key turns off the music player and goes to the homescreen. The player can work in the background, but you have to go to Options > Play in background for that.
Also, when not in the Now playing interface, there is no way to pause a song or skip to the next one, not even with the homescreen widget. You have to get into the music player to do that (and it doesn't support swipe gestures like the homescreen does, nor can you assign swipe gestures on the homescreen to things like "next track").
Displaying the artist and title of the currently playing song are all that the homescreen widget does. They appear in the Radio and music area on the homescreen so they need to be enabled in the Homescreen mode settings for the info to be displayed.
There are several basic equalizer presets, hidden deeper in the Music player menus,.
FM radio with RDS
An alternative to your music library in the Asha 303 is the FM radio. It matches the music player interface and covers all basic functions.
RDS support is available and you can make the handset search and save all available stations in your area. RDS info and frequency appear on the homescreen, much like with the music player.
The FM radio can also record broadcasts but that feature is regional.
The video player is enhanced with DivX/XviD support
As we expected, the limited XviD support from the Touch and Type series is back, but it is now accompanied with DivX too. It managed to play most of the Xvid/DivX videos we threw at it (granted, files have to be up to 700MB and of up to nHD resolution). It's not the best in the class, but it's way better than we had hoped for.
As far as the user interface is concerned there are shortcuts for fullscreen mode, fast-forward or rewind, capture, shuffle, repeat and that's that.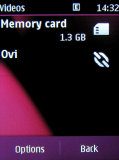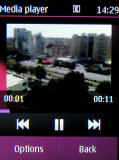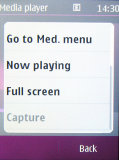 The Nokia Asha 303 hardly suited for watching video clips
Audio quality is quite good
The Nokia Asha 303 demonstrated some pretty good audio output, which is impressive given its lowly standing in the food chain.
With no resistance applied to its line-out (when used with an active external amplifier), the Asha 303 achieved some pretty great scores all over the field and it was louder than usual. The stereo crosstalk is a bit high, but that's undetectable with a naked ear.
Things do worsen when you plug in a pair of headphones, but it's not too bad. Stereo crosstalk increases less than we are used to, so it's mostly the moderate jump in intermodulation distortion that may cause a few frowns. Still, you can't realistically expect any better in this price range.
And here come the full results so you can see for yourselves:
| | | | | | | |
| --- | --- | --- | --- | --- | --- | --- |
| Test | Frequency response | Noise level | Dynamic range | THD | IMD + Noise | Stereo crosstalk |
| Nokia Asha 303 | +0.04 -0.10 | -87.5 | 87.4 | 0.0060 | 0.017 | -73.3 |
| Nokia Asha 303 (headphones attached) | +0.50 -0.17 | -87.5 | 87.2 | 0.017 | 0.350 | -55.7 |
| Nokia 500 | +0.07 -0.37 | -90.1 | 90.1 | 0.0058 | 0.015 | -91.2 |
| Nokia 500 (headphones attached) | +0.49 -0.25 | -90.0 | 90.0 | 0.017 | 0.270 | -67.0 |
| Nokia C2-02 | +0.19, -0.49 | -83.3 | 83.1 | 0.050 | 0.064 | -80.7 |
| Nokia C2-02 (headphones attached) | +0.68, -0.41 | -81.5 | 82.1 | 0.050 | 0.488 | -63.3 |
| Nokia X2-01 | +0.07 -0.56 | -83.8 | 83.8 | 0.010 | 0.024 | -83.8 |
| Nokia X2-01 (headphones attached) | +0.63 -0.37 | -81.7 | 84.0 | 0.028 | 0.280 | -64.2 |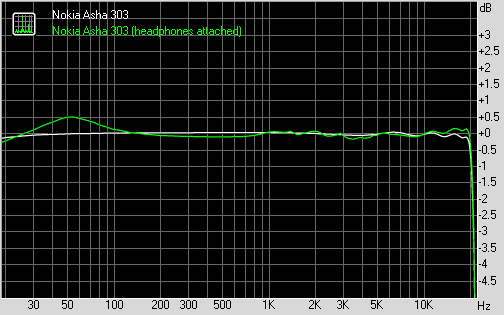 Nokia Asha 303 frequency response
You can learn more about the whole testing process here.