Unboxing and retail package
The retail box of the Nokia Asha 305 is quite modest, which shouldn't be surprising considering the price of the phone. The complimentary 2GB microSD card is no surprise either, as even some of the cheap Nokia phones offer one. Maybe Nokia have a nice deal with a memory card supplier.
Anyway, there's a set of headphones and a charger in the bundle too. It's the old-fashioned Nokia charger but the Asha 305 supports USB charging too.
Nokia Asha 305 360-degree spin
The phone is compact enough at 110.3 x 53.8 x 12.8 mm and weighs just 98 g but there's just too much screen bezel which makes one think the Asha 305 could've been a lot smaller. We wouldn't call it a slim set either. But let's not get the concepts mixed up. Ultra-thin bezels belong in the premium segment which is... well... a long way from the Asha. As for the slimness - two side-mounted card slots offer plenty of convenience to make up for the lack of style.
Design and build quality
The Asha 305 doesn't shine with exquisite design. What shines is the rather cheap gloss of the front but you can't hold the cheap finish against a genuinely cheap device. The Asha 305's design blends Nokia X2-02 and C2-03 - essentially it's a neat curved back and glossy front with faux metal accents.
There seems to be plenty of unused space above the 3" display, where the Nokia logo is. A thin strip underneath accommodates the call keys. The entire front, including the glossy accents top and bottom, is instantly covered in fingerprint smudges.
The display itself is not too bright and there's no brightness setting whatsoever. The low resolution gives icons a dot-matrix-printer look and scrolling is like a stop-motion cartoon. The screen is extremely reflective and colors look washed out. To be fair though, poor image quality was to be expected in this price range.
Display test
50% brightness
100% brightness
Black, cd/m2
White, cd/m2
Contrast ratio
Black, cd/m2
White, cd/m2
Contrast ratio
HTC Desire C
0.23
186
814
0.5
360
723
Nokia Asha 305
-
-
-
0.33
320
955
Sony Xperia go
0.30
282
928
0.63
541
859
HTC One X
0.15
200
1375
0.39
550
1410
Sony Xperia U
0.35
287
831
0.55
515
930
Samsung S7500 Galaxy Ace Plus
0.27
239
873
0.6
528
888
Samsung Galaxy Pocket
0.31
238
774
0.62
468
753
Samsung Galaxy Y
0.40
247
624
0.72
471
625
Contrast ratio
Nokia 808 PureView
4.698
Samsung I9300 Galaxy S III
3.419
Samsung Omnia W
3.301
Samsung Galaxy S
3.155
Nokia N9
3.069
Samsung Galaxy Note
2.970
HTC One S
2.901
Samsung Galaxy S II
2.832
Huawei Ascend P1
2.655
Nokia Lumia 900
2.562
Apple iPhone 4S
2.269
HTC One X
2.158
Nokia N8
2.144
Apple iPhone 4
2.016
Sony Ericsson Xperia ray
1.955
Sony Xperia U
1.758
LG Optimus 4X HD
1.691
HTC One V
1.685
LG Optimus Vu
1.680
LG Optimus 3D
1.542
Nokia Asha 302
1.537
Nokia Lumia 610
1.432
Gigabyte GSmart G1355
1.361
Sony Xperia go
1.577
HTC Desire C
1.300
LG Optimus L7
1.269
Meizu MX
1.221
Samsung Galaxy Pocket
1.180
Nokia Asha 305
1.178
Samsung Galaxy mini 2
1.114
The resistive screen has poor response until you get the hang of it and start putting more pressure to your taps and swipes. A bit of a surprise, Nokia found a way around and enabled multi-touch. It's limited to the gallery but pinch zooming works rather well. Here's a photo of the screen's RGB matrix under a microscope.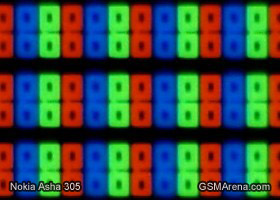 Above the display there's an earpiece and a brand logo. There're none of the usual sensors up there. There's no automatic screen brightness of course and no proximity sensor. The screen locks as soon as the call is connected and can be unlocked using the dedicated button. Only then can you access the onscreen in-call options.
Underneath the screen you'll find the mouthpiece on the thin strip of plastic that accommodates the call and end keys. The end key will exit any currently running app and take you back to the homescreen. It's a power button too.
On the right side of the Nokia Asha 305 is the volume rocker and the lock button. Near the bottom you'll see a rather deep and wide slit for removing the back panel.
Sealed with plastic lids are the microSD card slot and the hot-swappable secondary SIM slot.
The microUSB port is placed at the top of the device alongside a 3.5 mm headphones jack and the older standard charging port. The Asha 305 comes with one of those old-school Nokia chargers but can be charged off USB too.





At the top and bottom of the Asha 305
The back panel of the Nokia Asha 305 is probably the only place where a more conventional matte finish has been deployed. You'll find the 2 MP camera lens there, along with another engraved Nokia logo and the loudspeaker grille. The Asha 305 is powered by a 1110 mAh Li-Ion battery and inside the battery compartment is the primary SIM slot. You have to have a card in it for the other SIM slot to be active.
We can't say we're too fond of the Nokia Asha 305 in terms of design but the build looks solid. The handset looks like it's been put together from parts of other Nokias and there's too much gloss. Fingerprints are too much of an issue but overall, it's the looks that raise doubts not durability.



The Nokia Asha 305 held in hand
And we know we can't expect too much for so little, price-wise. What really counts here is the extra SIM you can put in and being able to hot-swap several of them is quite convenient. So is the readily accessible memory card slot.