Awesome file browser
The Nokia Asha 305 has something that makes the (supposedly dumb) S40 UI look much smarter than the likes of iOS and Windows Phone. That's right, we are talking about a full-featured file browser.
The app is called Files and lists all your local folders with the memory card on top. Different icons are available for the different file types, the multimedia files appear with small thumbs.
A few handy options are available in the advanced menu - change view and sorting, add new folder or mark some/all files. If you tap and hold on a file you'll get options such as copy, cut, paste, rename, delete, mark and details.
The app has everything you may need in a file browser and puts to shame many smart file explorers thanks to its simple yet powerful interface.
The gallery works just fine
The image gallery is a Symbian copycat. Photos are displayed in a three-column grid kinetic scrolling enabled. The gallery has one problem - it can't show more than 1000 images. So if your memory card is full of pictures, the Asha 305 is not the best choice of device to browse them on.
You can organize your photos into albums and there is an album view as a separate tab in the gallery. The video section is the final tab and lists any supported videos you've uploaded on your memory card.
A tap and hold on a file lets you rename, delete, share or assign the image to a contact or set it as wallpaper.
Auto-rotation and pinch zooming are enabled in the gallery. Surprisingly, Nokia have made pinch zooming possible even on a resistive screen such as this one. However, it only works in the gallery and Nokia Maps. The web browser doesn't make use of it.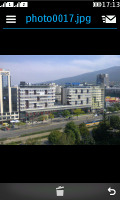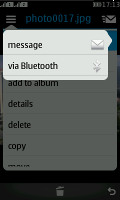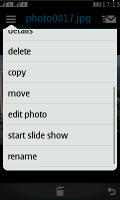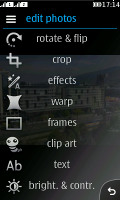 Viewing a single image • Editing options
You can edit pictures from the advanced menu. The available options are crop, rotate, flip, effects, warp, add frame, clip art, add text, adjust brightness and contrast, retune colors or do auto enhance. Not bad, is it?
The music player is a looker
The music player has a rather basic interface with lots of hidden features.
The Now Playing screen displays a huge album art, with the track name, a scrubber and music controls.
The bottom of the screen has three tabs, the first one being the Now Playing screen. The next one is the Library with the default sorting options - all tracks, artists, albums, genres and videos. The last tab has your custom playlists with a few default ones available - recently added, recently played, most played and now playing.
Shuffle, repeat and equalizers are available too. You can also play music via Bluetooth.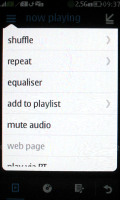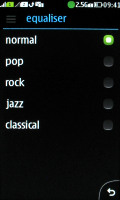 The music player options • Equalizers
The music player supports background playback, but there are no quick controls in the notification area or the lockscreen.
FM radio with RDS
The FM radio on Nokia Asha 305 comes with a neat and simple interface. You can change stations with the dedicated controls at the bottom. There is a tab with all available stations.
The radio has RDS support and automatic rescanning.
Audio quality good for the class
Going full touch hasn't cost the Nokia Asha 305 dearly in terms of audio quality. In fact, the first of the Nokia featurephone kind to drop the hardware keyboard is doing better than most of its predecessors in many parts of our test.
With no resistance applied to its line-out (when used with an active external amplifier), the Nokia Asha 305 was able to provide decently clean output. Half the readings were nearing perfection (dynamic range, noise level and stereo crosstalk), while the other half wasn't as good, but it wasn't anything to worry about either. More impressively, in this scenario, the Asha 305 turned out to be one of the loudest handsets we have seen.
Plugging in a pair of headphones leads to notable spike in intermodulation distortion and stereo crosstalk as well as some further deviation of the frequency response. It's not too bad overall, but it's some way off the best on the market and as the volume levels drop quite rapidly here - to only average levels, we can only give a decent mark to the Asha 305 here.
And here come the full results so you can see for yourselves:
Test
Frequency response
Noise level
Dynamic range
THD
IMD + Noise
Stereo crosstalk
Nokia Asha 305
+0.47 -0.20
-85.2
85.1
0.093
0.113
-82.8
Nokia Asha 305 (headphones attached)
+1.07 -0.42
-84.9
84.8
0.081
0.634
-46.0
Nokia Asha 302
+0.04 -0.09
-87.5
87.4
0.0053
0.014
-88.3
Nokia Asha 302 (headphones attached)
+0.64 -4.70
-87.4
87.4
0.048
1.494
-48.1
Nokia Asha 200
+0.15 -0.31
-81.2
80.9
0.049
0.067
-78.1
Nokia Asha 200 (headphones attached)
+0.62 -0.39
-80.4
79.5
0.039
0.348
-56.2
Nokia Asha 300
+0.04 -0.09
-87.9
87.9
0.0050
0.014
-86.8
Nokia Asha 300 (headphones attached)
+0.53 -3.34
-86.8
85.6
0.042
0.917
-51.5
Nokia Asha 303
+0.04 -0.10
-87.5
87.4
0.0060
0.017
-73.3
Nokia Asha 303 (headphones attached)
+0.50 -0.17
-87.5
87.2
0.017
0.350
-55.7
Nokia Lumia 710
+1.94, -2.90
-80.9
80.8
0.061
1.603
-85.7
Nokia Lumia 710 (headphones attached)
+2.04, -2.69
-83.3
83.0
0.061
1.574
-54.5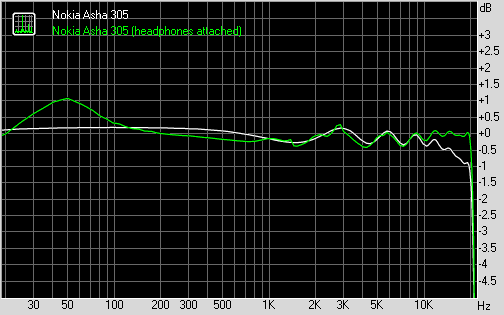 Nokia Asha 305 frequency response
You can learn more about the whole testing process here.
Basic video player
There is no dedicated video player within this version of Series 40. You can find you videos in the dedicated video tab of either the gallery or the music player. Or browse them in the file manager.
The Asha 305 is capable of playing only 3GP/MP4 videos at QCIF resolution and a frame rate of 10fps. On the other hand it supports all kind of audio codecs and it played the sound of even incompatible video files (including the 1080p videos in our collection).
The video interface is as basic as it gets too.