Introduction
Nokia may be at a point when if Lumia sneezes the entire company catches a cold, but a small part of their system is remarkably resistant. Well, yes, it's the dumbphones and some may say they're too primitive a species to be affected.
But the Asha line is doing well nonetheless - and not only on traditionally loyal developing markets. The neat swipe-driven Asha Touch interface and the Nokia Store bring those otherwise basic packages a lot closer to the smartphone experience that everyone is so keen on getting lately.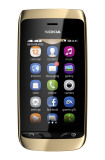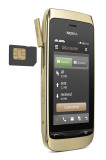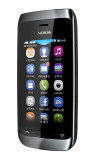 Nokia Asha 308 official photos
So, while Lumia is rightfully at the height of hype, the Ashas have been quiet but busy. The lineup is being refined and updated and one of the latest installments, the Nokia Asha 308, is offering the familiar (and impressively efficient) Finnish dual-SIM setup on a capacitive screen.
Key features
Dual-band GSM, GPRS, EDGE
Dual SIM dual stand-by, SIM
S40-based Asha touch interface
3" WQVGA capacitive touchscreen, ~155 pixel density
Display auto-rotation
64MB RAM, 128MB ROM, 20MB storage
Nokia Browser 2.0
Nokia store and 40 EA games for free
2 MP camera
microSD card support (up to 32 GB) and 2 GB microSD card in the box
FM radio with RDS, FM recording
Bluetooth v3.0
Standard microUSB port, charging
1110 mAh Li-Ion battery
Excellent loudspeaker performance
Main disadvantages
No 3G
No Wi-Fi
Low-resolution screen
Fixed-focus camera and QCIF video recording
No smart dialing
When the new Asha Touch lineup was launched in the summer, the capacitive screen was a luxury that only the top-spec'd Asha 311 could afford. The Asha 305 and 306 were the basic packages offering a choice between Wi-Fi and dual-SIM. They both failed to impress in terms of interface response and fluidity, though with the resistive screens and limited RAM sharing the blame.
The Nokia Asha 308 is the dual-SIM half of a pair of new recruits, and while it offers a similar level of equipment to the 305, the capacitive screen and double the amount of RAM are expected to make the right difference. We're about to see if they do. Follow us on the next page where we start with the usual hardware tour.
r
a very good set.satisfying features.touch.is awsume/smartlessexpensive
G
308 not sopott the pdf format
0
please i want whatsapp account.Please