Series 30 user interface
The C1-00 runs Nokia's Series 30 UI. The only thing to suggest that you're actually holding a dual SIM capable phone is the tiny SIM1 (or SIM2) label in the center of the homescreen and the indicator in the upper left corner telling you which is the currently active SIM card.
The main menu has two different view modes: a grid of icons or a list of items. As usual, the color background of the entire menu, as well as the wallpaper on the display, can be easily modified by changing the active theme.The menu responds nicely (with occasional lags).
There are six predefined ringing profiles on the Nokia C1-00 and on top of them you get an additional user-customizable one. These should be enough to suit practically any situation you could possible face.
While browsing the menu we encountered quite a lot preloaded applications – Converter, Spreadsheet (turned out to be what we used to know as the Expense manager), countdown timer, stopwatch, and even a melody composer. Geez, we thought those were a thing of the past already. Actually, there's no other way to add custom ringtones, so that's something.
Also on board there are three games – Bounce, Sudoku, and Forbidden Treasures. And as we mentioned before, the C1-00 also comes with an FM radio (the enclosed headset serves as an antenna since the phone lacks a built-in one).
Interestingly, the Nokia C1-00 has no web browser.
The S30 UI turned out to be user-friendly and responsive enough. If this isn't your first Nokia device, you shouldn't have any difficulties getting used to the user interface. There are no goodies such as multi-tasking or active standby but those aren't to expect on a device priced at 30 euro.
Dual SIM phonebook and telephony
The phonebook of the Nokia C1-00 stores up to 500 contacts – as far as most people are concerned, this is as good as unlimited storage. The phonebook is typical S30 and holds no surprises.
As far as the dual SIM functionality is concerned, contacts on both SIM cards are displayed at the same time, however, you can only add, edit or delete contacts from the currently active SIM card. On the other hand, you can send a message or call any of the contacts no matter if its card is currently active or not.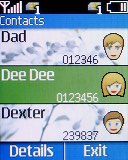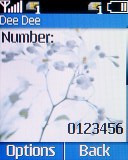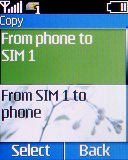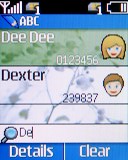 The phonebook can be searched by gradual typing
Each contact can be assigned only one number. There are no extra fields. The way contacts are displayed is user-configurable – a list of names, numbers or names and numbers. Setting up quick dial shortcuts gives you quick access to the most used contacts.
Another interesting C1-00 feature is the Multi-phonebook. The Nokia C1-00 packs support for up to 5 separate phonebooks allowing multiple users to store there own contacts on a single device. Shared contacts are accessible from all phonebooks, while the others are kept private.
As for the telephony, the in-call sound is strong and clear. Vibration strength is not very impressive though.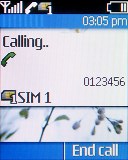 Calling Dee Dee on Nokia C1-00
As we've already pointed out, even if the phone is dual SIM capable, only one of the cards can be active at a time. This means the other card will unreachable so in order to receive calls and messages on the inactive number you'll need to activate it. There's a quick shortcut for that - just press-and-hold on the asterisk (or star) key.
If you don't want to miss a call even if the card is currently inactive, you can always divert incoming calls to another phone number (including the active one), however, make sure to contact your service provider for more information on the costs. The handset has an easy Dual SIM menu, which makes forwarding calls between both SIM cards not only easy, but also automatic – should you choose to.
Since there was no way to transfer our tones used for the traditional loudspeaker test, we weren't able to run it. However, the Nokia C1-00 sounds quite loud and missed calls are only likely in noisier environments.
Final words
The last dual SIM phone we reviewed came with features like a touchscreen, Wi-Fi support and a 5-megapixel camera on board and this little fella, the Nokia C1-00, doesn't even have a web browser. Or a memory card slot. But it's cheap. And that seems to be its only advantage over the competition.
The C1-00 is a dual SIM phone, but it's not a Dual standby phone. And that's an important difference. The C1-00 doesn't make use of both SIM cards simultaneously. Instead, only one SIM card is active at a time.
We had a really hard time coming up with possible real-life scenarios where the limited Dual SIM functionality would actually be useful. In the end we gave up - perhaps Nokia never meant to use it as a key selling feature. The flashlight and FM radio sound way more practical.
Plus some carriers have been offering dual-number SIM cards for quite some time and since they work the same as Dual SIM telephony on the C1-00, you might as well get one of those and keep your current phone.
We guess the Nokia C1-00 won't be a big hit on the Dual SIM phone market, but despite that, the price of around 30 euro is low enough to make it a bestseller with or without it.