Messaging does the job
The Nokia C2-01 handles messaging without a problem, though with no fanfare either. It's as basic as you can get on a phone. Don't get us wrong, that's not a bad thing and we are quite aware this isn't an E72.
The supported formats are SMS, MMS, flash and audio messages and the C2-01 handles email too.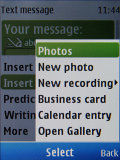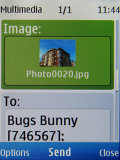 Choosing attachment • Creating MMS
The keyboard of the C2-01 will give you reasonable typing speed. It's a good package in terms of software support too, with Conversations enabled.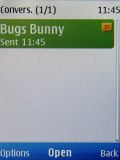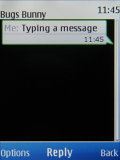 Conversations • Creating a message
The message editor is very simple and easy to use. You start typing your message (you have the available character counter and number of messages available), when you're finished and happy with it you can pick a contact. You look up contacts, or choose from the recently used numbers, the call log or contact groups. You can have a favorite contact too (just one).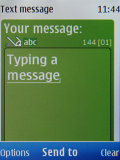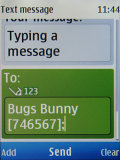 Typing a message on the Nokia C2-01
The email client does pretty well to meet most user needs. It works with POP3, SMTP, and IMAP4 protocols and supports multiple email accounts. The email client supports SSL, which enables it to handle a Gmail account for example.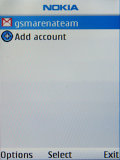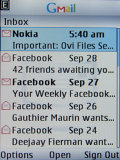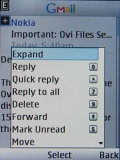 E-mail client • Gmail inbox • Gmail options • Creating an E-mail message
Setting up the email client was extremely easy. It just required an email address and entering and confirming the password – the phone took care of the rest.
Photo gallery and File Browser got a divorce
A dedicated gallery is a relatively recent feature in S40. The gallery app – Photos – handles your image files hassle-free. There's no eye candy, no fancy transition effects but it performs fast enough.
The gallery can be viewed in either portrait or landscape mode. In landscape mode, images load full screen.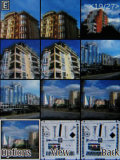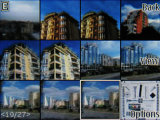 Portrait mode • Landscape mode
Zooming in on a single picture is pretty comfortable with the zoom in and out shortcuts placed on the D-pad and the right soft key. It's also fast and relatively smooth, even for pictures of higher resolution. We even tested it with photos made with the Nokia N8 and the C2-01 handled them like a pro.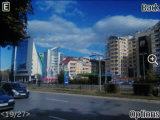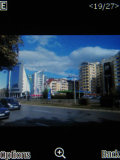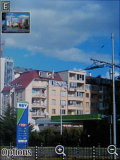 Zooming on photos in the Nokia C2-01 gallery
You can organize photos into albums, view them in a timeline (they are ordered by the date they were taken) and of course you can set up a slide show.
As for the regular Gallery app, it's still here – but it's hidden in the Applications menu. It's quite a capable file manager, especially for a feature phone. It can manage folders and files – both one by one and in bulk.