Photo gallery and file browser separate at long last
The S40 Gallery app tried to be too many things at once and being a photo gallery wasn't among its strong points. Now, there's a separate icon in the main menu – Photos, which serves the one and only purpose of viewing the photos and videos on your phone.
Not that its functionality has changed much, but at least now file browsing features don't get in the way of browsing photos.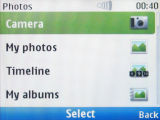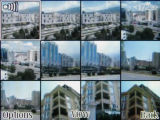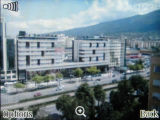 The Photos app is now a proper gallery
The Photos app on the Nokia C3 offers only a single view mode, displaying a grid of 12 pictures on the screen. At least zooming in on a single picture is pretty comfortable now with the zoom in and out shortcuts placed on the middle and right soft keys. It's also rather fast and smooth.
You can organize photos into albums, view them in a timeline (they are ordered by the date they were taken) and of course you can set up a slide show.
As for the regular Gallery app, it's still here – but it's hidden in the Applications menu. It's quite a capable file manager, especially for a feature phone. It can manage folders and files – both one by one and in bulk.
Music player is ok
The music player of the Nokia C3 has decent looks and a good feature set.
The music player can sort songs by artist, album and genre. The player works with AAC, AAC+, eAAC+, MP3, WMA, AMR-NB. Naturally A2DP profile is supported, allowing the use of stereo Bluetooth earphones. There are preset equalizers settings available and you can customize another two, plus there's Stereo widening available.
As usual, the artist and title of the currently playing song are shown on the homescreen – but only if you have the Radio and Media player bar on the Active Standby.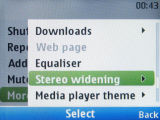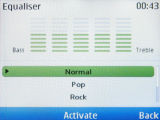 There are equalizers and Stereo widening available
The lack of volume keys is inconvenient – you can only control the volume when the music player is active.
FM radio has RDS
An alternative to the preloaded content on Nokia C3 is the FM radio. It matches the music player interface and covers all basic functions.
RDS support is available and you can get the handset search and save all available stations in your area. RDS info and frequency appear on the homescreen (again, if the appropriate bar is enabled), much like with the music player. There's also a station directory, which pulls data about local radio stations from the Internet.
Video player is very limited
The S40 platform was never particularly good at playing videos and things haven't changed all that much. Not that we were expecting DivX support in a phone like the Nokia C3.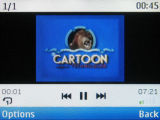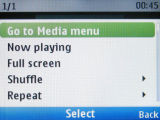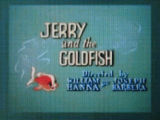 The Nokia C3 is hardly suited for watching video clips
The video player of Nokia C3 is only compatible with 3GP and MP4 formats. Videos can be played in fullscreen mode, fast-forwarded or rewound and that's that.
Audio quality is decent, but the volume is low
Audio quality is an area where we got used to seeing good results from Nokia handsets over the past year or so. Fortunately the C3 makes no exception, providing nice and clean audio output.
The frequency response is spot on for virtually the entire range and the noise level and dynamic range readings are simply superb. Distortion levels are also pleasingly low.
There are only two things separating the C3 from perfection. The bigger shortcoming is its below-par headphones loudness, while the more minor issue is its uninspiring stereo crosstalk reading. See for yourselves in the table below.
| | | | | | | |
| --- | --- | --- | --- | --- | --- | --- |
| Test | Frequency response | Noise level | Dynamic range | THD | IMD + Noise | Stereo crosstalk |
| Nokia C3 | +0.07, -0.63 | -89.2 | 89.3 | 0.012 | 0.021 | -70.3 |
| Nokia E72 | +0.05, -0.26 | -88.3 | 88.2 | 0.012 | 0.024 | -88.8 |
| Sony Ericsson Aspen | +0.12, -1.11 | -79.5 | 82.5 | 0.025 | 0.082 | -79.8 |
| Nokia 5330 Mobile TV edition | +0.07, -0.38 | -90.0 | 90.1 | 0.0058 | 0.015 | -90.6 |
| Nokia X3 | +0.07, -0.44 | -88.3 | 88.3 | 0.0067 | 0.016 | -89.0 |
| Sony Ericsson Vivaz Pro | +0.37, -1.91 | -88.0 | 87.4 | 0.0099 | 0.129 | -88.7 |
| Sony Ericsson XPERIA X10 mini pro | +0.12 -0.53 | -86.8 | 89.2 | 0.030 | 0.101 | -83.6 |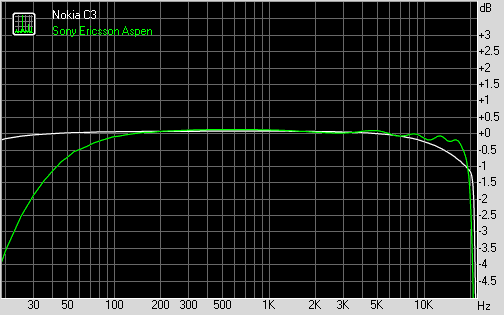 Nokia C5 vs Sony Ericsson Aspen frequency response graphs
You can find more info about the testing process here.