So-so fixed-focus camera
The Nokia C5-03 is equipped with a 5 megapixel camera for a maximum image resolution of 2592 x 1944 pixels. It has neither autofocus nor LED flash. And there is no lens protection either. This means that the glass covering the lens is prone to finger smudges and perhaps occasional scratches.
The C5-03 is not a cameraphone by any means, it's what you use when you've forgotten your point and shoot camera.
As far as settings go, the camera on the C5-03 offers several scene presets, one of which is user defined. There's limited control over light sensitivity (it has low, medium, high and auto settings) as well as some control over sharpness and contrast.
The rest of the settings include self-timer (2, 10, 20 seconds), sharpness, exposure, contrast, color tone and white balance control.
The image quality is below the best of the 5MP range but still, the Nokia C5-03 produces some usable photos. The contrast and color rendering are good and the amount of captured detail is decent. However, the produced images are quite noisy which, combined with the sharpening algorithm, produces jagged edges. The noise reduction algorithm also has a tendency to smear out areas of low contrast.
The major missing feature – autofocus – becomes apparent when you try taking a macro shot. Anything closer than 50cm is a no-go.
Photo quality comparison
We've also added the Nokia C5-03 to the database of our Photo Compare Tool. The Tool's page has a quick how to guide and also what to look for.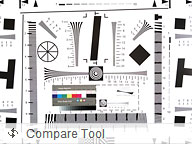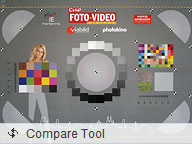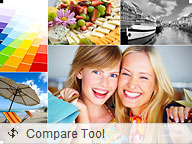 Nokia C5-03 in the Photo Compare Tool
Poor VGA videos
Video recording is definitely the worse part of the Nokia C5-03 imaging skills. The phone can shoot VGA at 13fps. In other words, videos shot with the C5-03 camcoder are only good for MMS.
Videos are captured in MPEG-4 format and can have automatic or manual white balance. The other available settings are scene (automatic, low light and night) and color tone.
Nokia C5-03 camera sample video
Great connectivity
The Nokia C5-03 offers a quite wide range of connectivity options. Unlike the cheaper Nokia 523x family or the 5530 XpressMusic and the 5250, the C5-03 has it all: from 3G and Wi-Fi to GPS.
You have GPRS, EDGE and 3G with HSDPA (10.2Mbps) at your disposal. The GSM/EDGE network support of course comes in quad-band flavor and the 3G is tri-band - 900/1900/2100 MHz.
Local connectivity is handled by Wi-Fi b/g and Bluetooth 2.0 with A2DP and a microUSB port. You can hook up the C5-03 to a computer in several modes – PC Suite, Mass storage, Image transfer and Media transfer. Luckily, this time USB charging via the USB port is possible.
A 3.5mm audio jack is also onboard and you'll have no problems switching to your favorite headphones.
The Nokia C5-03 has nearly 80MB internal storage (less than 40MB of then are free), expandable via a microSD slot. A 2GB card is included in the retail box but you're likely to need more.
A capable web browser
The S60 web browser is decently usable, especially now that is also offers kinetic scrolling. There is still quite a lot of work to do before it is able to rival the best in class. The Android and iPhone browsers are miles ahead in terms of user-friendliness.
The Nokia C5-03 browser has very good page rendering and boasts some nice features such as different font sizes (5 options), auto filling of web forms and a password manager.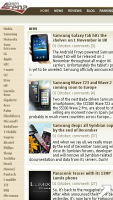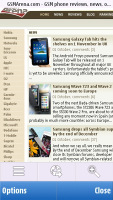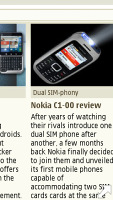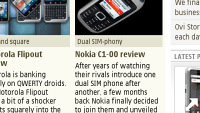 The S60 web browser still needs some polishing
The built-in RSS reader will handle your feeds, while the download manager keeps things in order. There's also a popup blocker, but no open-in-a-new-window option.
A minimap is available for finding your way around elaborate pages and the Find on page feature is welcome. The visual history is a nice bonus that can help you easily find a page you've visited.
And now we get to Flash support. There is Flash support and it's way better that it was back on the X6. The YouTube videos we've tested did well with almost no dropped frames, but the loading time was excruciating. Unfortunately the small screen and resolution won't allow you to fit the whole YouTube screen in there.
The mobile version of YouTube is an option.
Another upgrade over the X6 web browser is the better kinetic scrolling. It now works fine and manages to catch up with most of its competitors.
Double tapping on a block of text zooms it in on screen, but again, the zooming routine treats the whole page as an image and the browser doesn't refit the paragraph text to fill the screen properly (the so-called text-reflow). As a result, when you zoom in you still need to scroll sideways to read it.