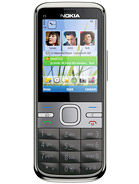 ?
this is not a smartphone. it's already a dumbphone. such type of mobiles were smartphones at nokia until touchscreen era. this is a basic 100-120 euros mobile, under the quality of a 6700 for example wich is a beautiful mobile forever
?
5 MP camera, nice. 256 MB RAM, excellent. I just have a small question, COULDN'T YOU HAVE ADDED THE FREAKING WI-FI?!!! A smartphone is almost useless without Wi-Fi.
Total of 3163 user reviews and opinions for Nokia C5 5MP.