Decent 5 megapixel camera
Nokia C6 has a 5 MP camera for a maximum image resolution of 2592x1944 pixels. The camera UI is similar to what you get in the 5800 XpressMusic, the N97 or the N97 mini.
All the settings are squeezed in a combined menu, except for the flash, which has its own dedicated shortcut. We understand that a tabular layout isn't the easiest of things to do on this kind of device but some of the more important features could have had their own shortcuts too.
At least the range of settings that the Nokia C6 offers is extensive enough: from manual white balance and ISO to exposure compensation, sharpness and contrast. Various effects are also at hand, labeled as Color Tones.
Geotagging is enabled but the Nokia C6 omits some of the modern features competing manufacturers are using, such as face detection, smile detection and even blink prevention.
The viewfinder on the Nokia C6 doesn't occupy the whole screen - a bar on the right is reserved for the touch controls. You have a settings button that launches a semi-transparent overlay of all available shooting options, a dedicated Flash button, an on-screen shutter key and finally, the Options menu key.
The on-screen shutter key seems absolutely redundant – it doesn't have a half press/full press action to properly handle auto focus. It would've been way better to have a Quick Settings button instead.
Image quality
The picture quality is pretty decent by our books. First of all, resolved detail is more than adequate. Noise reduction finds a good balance between keeping noise levels low and preserving fine detail. There is no purple fringing whatsoever and the white balance and auto ISO settings are well tweaked. Photos have good contrast and accurate colors.
And there go some photo samples from the C6 camera.
Synthetic resolution
We also snapped our resolution chart with the Nokia C6. You can check out what that test is all about here.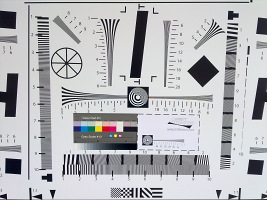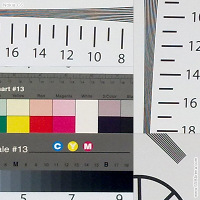 Nokia C6 resolution chart photo • 100% crops
Video recording
The camcorder interface doesn't differ from the still camera much. The camera can capture video in either VGA or the screen resolution (640 x 352 px) resolution, 30 fps in either case.
The C6 video quality is OK. Colors turn out just fine, but the compression seems too aggressive in most of the clips and produces noticeable artifacts. Anyway, VGA@30fps seems to be the best that Nokia can offer until N8 hits the market.
Here is a VGA video sample from the Nokia C6.
All-in-one connectivity
Smartphones are usually well-heeled in terms of connectivity and the Nokia C6 is no exception: all contemporary means of data transfer are supported.
User have GPRS, EDGE and 3G with HSDPA (3.6Mbps) at their disposal. The GSM/EDGE network support of course comes in quad-band flavor and the 3G is tri-band - 900/1900/2100.
Both USB and Bluetooth are version 2.0 and the latter naturally also sports A2DP. Wi-Fi with UPnP support is also at hand. There is a dedicated homescreen widget for the WLAN wizard.
A 3.5mm audio jack is also onboard and you'll have no problems switching to your favorite headphones.
Unfortunately, Nokia C6 doesn't charge off a USB connection. It's a common issue among the midrange Nokia smartphones and C6 joins the unfortunate list.
Finally, the storage. Nokia C6 has 240MB internal storage, expandable via a microSD slot. A 2GB card is included in the retail box but you're likely to need more. The C6 cannot match the built-in storage capacity of the N97 duo.