GPS, Ovi Maps and free voice navigation
The Nokia C6 comes with a built-in GPS receiver that managed to get satellite lock in about a minute upon cold start (A-GPS turned off at the time) and keeping the lock was not an issue for the C6 even in dense urban environments.
The phone comes with Ovi Maps 3.3 Touch preinstalled (the rebranded Nokia Maps). Since January 2010 all Nokia GPS-enabled Symbian handsets have free lifetime voice-guided navigation.
Ovi Maps navigation is currently available in 74 countries and 46 languages, with even traffic information for more than 10 of those. In addition, Nokia have also greatly upgraded the Ovi Maps application itself, so it now packs a cooler looking interface, the Lonely planet city guide and the Michelin restaurant guide with lots and lots of points of interest. There's also an events guide that lists all events happening within a 3km range of your position and provides you with details on each one.
The touch-enabled Ovi Maps application itself is doing pretty well in terms of features too. It has four different view modes including satellite and hybrid maps. Those however do need an internet connection. The more regular 2D and 3D view modes are also at hand.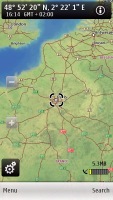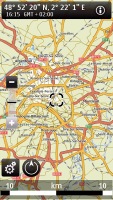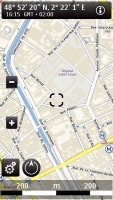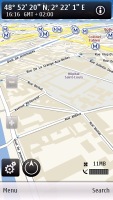 Ovi Maps 3.0 Touch application offers four different view modes
The route planning algorithm is also rather easy to customize to best suit your preferences. Toll roads and motorways can be avoided and so can tunnels and ferries. Route selection can be set to either fastest or shortest. The app is also usable for pedestrian navigation or you can switch the GPS receiver off and use the phone as a hand-held map.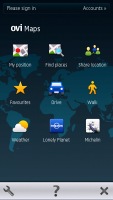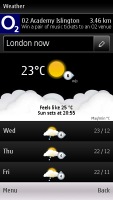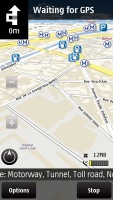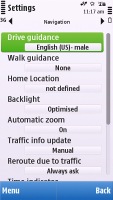 Main menu • weather info • navigation • navigation options
Ovi Store
Browsing the Ovi Store, you can choose between several sections - Applications, Games, Audio and Video content, Personalization, Recommended and of course, My Stuff, which shows you the apps you've already installed.
The structure of the Ovi Store client is simple. It's a list with the name and logo of each app (or podcast, or whatever), the category it's in (Entertainment, Utilities, etc), price and a star rating out of three.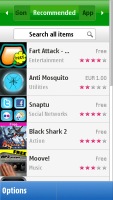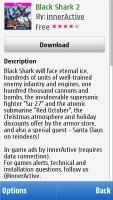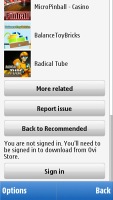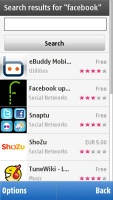 The Ovi Store has a simple but easy to use structure
Selecting an app, gives you more details - a description, info on size, reviews by people who have tried it, an option to write your own review or send the description page to a friend, a list of related apps and a Report issue button, which helps you report fraud, spam, abuse, etc., but not bug reports or feature requests.
Searching the Store is quite easy if the Recommended section and the Related apps list don't get you what you're looking for.
Our Nokia C6 came with very little preinstalled content: just a few apps and one game. Some of them are very handy tools for reading news, handling social networks, weather forecasts, etc.
Of course, since this is Symbian we are talking about, you can also pay a visit to some of the numerous software sites online. You can download the apps straight on your phone or on your desktop computer to transfer to the handset later.
Applications
The Nokia C6 comes with just a few preinstalled applications.
World Traveler is a handful open platform application developed by Psiloc. It offers four services - weather, world clock, currencies, and world map. More about this piece of software to be found here.
Nokia Drawing is a new and simple piece of software that lets you draw stuff with different colors and thickness of the pencil.
The Bloomberg app brings you up to date financial information. It has four tabs - news, markets, my stocks, and a search section. If you are into finance, you can find out more about it at their website.
AP Mobile is an application that enables users to follow Associated Press news, offering personalized delivery of content. Consumers can browse stories and AP photo galleries as well as watch AP videos. Interesting images, videos or news can be directly shared via Twitter or Delicious.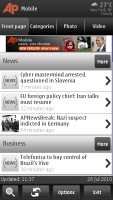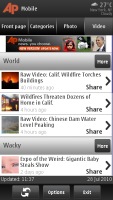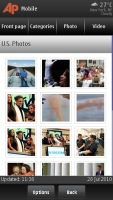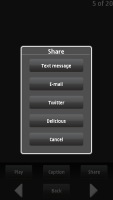 AP Mobile is great for the Associated Press readers
There're also Facebook, MySpace, Shazam, Friendster and hi5 social clients.
CNN Video app lets you watch videos from CNN news reports, while ESPNsoccernet caters to soccer fans - it has schedules, news, results, everything about soccer leagues around the world.
Only one game
The Nokia C6 comes with only one game preinstalled: Bejeweled Twist.